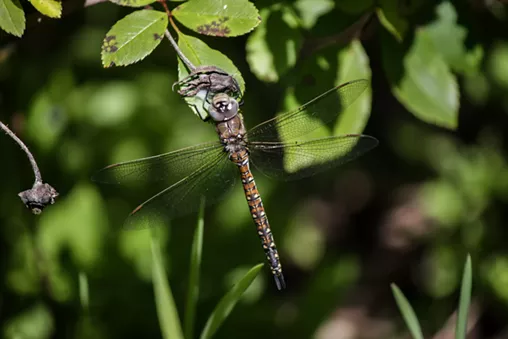 Anthony Westkamper
The comparatively dowdy female California darner.
The other day, while waging my perpetual losing battle against garden weeds, I glimpsed a shadow. It was a dragonfly cruising my yard for an afternoon snack. I kept watch and it changed its flight pattern from actively hunting to slowly browsing the bushes near the ground for a place to rest. When it finally landed, I got my camera and got close enough to take a shot. I recognized it as one of the mosaic darners, named for the intricate patterns on their abdomens. It was only later when I downloaded it onto my computer and compared it to my books that I decided it was a male California darner (
Rhionaeschna californica
). The next day I got a shot of a female. Males of this species are marked with bright blue and black while females are more subdued with green and brown markings.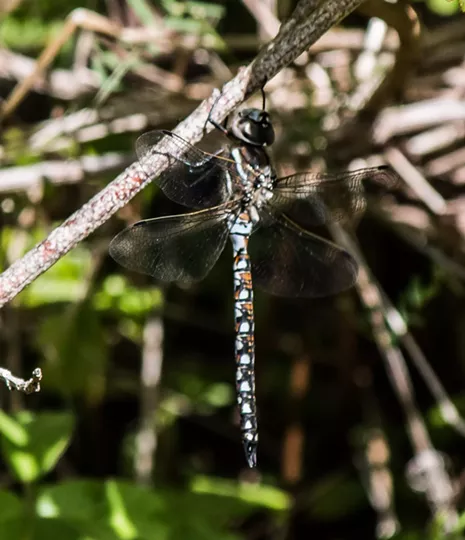 Anthony Westkamper
The male California darner is all flash.
In the dragonfly world, the males are often more beautiful and the females are often drab by comparison. That's because the valuable females need the protection of camouflage. Mathematically it makes sense. In asocial species, the biology of reproduction places a premium on the females' survival. Male cicadas and crickets are the ones who make themselves obvious by singing, male glow worms fly about when they go courting, exposing themselves to predators, while the females stay hidden in the leaf litter under trees, and male dragonflies are often the more brightly colored. Males are more expendable and are saddled with the burden of attracting the ladies.
Anthony Westkamper
A pair of snowy tree crickets. The male is the one with its wings extended for "singing."