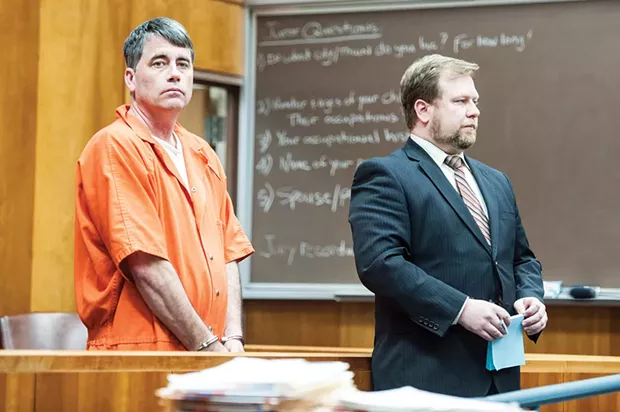 Photo by Mark McKenna
Gary Lee Bullock stands next to his attorney, Kaleb Cockrum, at his arraignment in January of 2014.
Multiple
media
outlets
are reporting that a jury today has found Gary Lee Bullock guilty on all counts for the 2014 murder and torture of St. Bernard's Catholic Church pastor Eric Freed.
After four days of deliberations, the jury came to the unanimous conclusion that Bullock was guilty of first degree murder, torture, residential burglary, carjacking and attempted arson stemming from the Jan. 1, 2014 slaying of Freed in the St. Bernard's church rectory. Because Bullock has pleaded not guilty by reason of insanity in the case, the trial now moves to a second phase in which jurors will be asked to determine if Bullock was legally insane at the time of the killing.
According to reports, that phase will open Friday and will include testimony from three expert witnesses. If the jury finds more evidence than not supporting Bullock's being sane at the time of the killing, he will face a sentence of life without the possibility of parole in state prison. But if the jury finds a preponderance of evidence supporting Bullock's being insane at the time of the crimes, he will be committed indefinitely to a state mental hospital.
For more on the Bullock case, see past
Journal
coverage
here
, and for more on insanity cases in general, see our March 31 cover story, "
Sanity on Trial
." And, for more on today's verdict or Bullock's trial, see Ryan Burns' coverage in the
Lost Coast Outpost
here
.