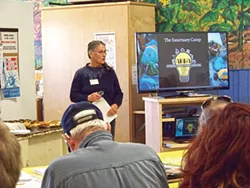 Linda Stansberry
Affordable Homeless Housing Alternatives President Nezzie Wade presents information about a sanctuary camp proposal on March 7.
UPDATE:
The city of Eureka received one response to its request for proposals to help the soon-to-be-displaced homeless people currently residing behind the Bayshore Mall, and it appears to dead on arrival.
City Manager Greg Sparks said he's currently reviewing the proposal submitted by the local nonprofit Affordable Homeless Housing Alternatives with an eye on making a recommendation to the city council at its next meeting, on May 2, the same day the city will be forcing the 140 to 200 people living in the marsh to go elsewhere. But AHHA's proposal seems very unlikely to go anywhere, as it violates the city's stated requirements that any proposal to help provide a living space for homeless people be free to the city and temporary in nature.
AHHA's proposal asks the city to spend between $50,000 and $150,000 for one to three sanctuary camps that would accommodate 30 to 90 people. The proposal also makes clear that AHHA's vision is for camps that could become self-sustaining after their first year, which seems unlikely to fit the city's definition of temporary.
If implemented, AHHA would open three sanctuary camp sites — one at the city-owned property on Hilfiker Lane, another on T Street and a third at a yet-to-be-determined location of the council's choosing. One would serve clean and sober residents, another would house families and the third would take in singles without clean-and-sober restrictions. Residents of the camps would have access to health and social services and some vocational training. The camps would be cooperatively run, each relying on a full-time staffer and a handful of resident volunteers.
The idea, as laid out in the proposal, is that residents would spend some of their time constructing tiny houses for themselves, which could then be transported to other locations or sold back to AHHA when a resident is ready to move on. The proposal also notes that residents would be asked to pay a "community fee" of $35 per week (on a sliding scale), with an estimate that each 30-resident camp could bring in $54,700 in annual revenue once it's fully up and running, which would more than cover operational expenses.
AHHA states that this proposal is consistent with the city's pledged adherence to a Housing First philosophy, which aims to place homeless people directly into permanent housing rather than spending time and resources on "managing" the homeless problem.
"That the stock of affordable housing does not yet exist creates a real dilemma of both cost to the community and cost in the deterioration of human lives," AHHA's proposal states. "Until there is available affordable and accessible housing with supportive services, this large population of our neighbors can be stabilized in a legal place where they will be ready for permanent housing, be accessible for human services and participate in readiness for employment."
City officials were sharply critical of a very similar plan AHHA unveiled last month, saying it lacked the type of exit plan that would make it truly temporary. And the council has been clear it isn't willing to pledge any city funds to help efforts to transition people out of the marsh. That likely leaves the currently-under-construction, 40-bed container project as the only new option for those leaving the marsh. (The Eureka Rescue Mission is also available with open beds, and St. Vincent de Paul could provide additional beds if needed.)
But the container project, which is being undertaken by the unlikely pairing of local philanthropist Betty Chinn and the Humboldt Coalition for Property Rights, was proposed late in the game and faces a host of challenges in getting up and running before May 2 (see below). David Tyson, former Eureka city manager and current Betty Kwan Chinn Foundation board member, sent sent an email last night with some updates about a pair of key hurdles facing the project.
The first is the memorandum of understanding being hammered out by HumCPR, Chinn's foundation and the city of Eureka. Tyson said the MOU has now morphed into an operating agreement, a first draft of which was circulated to parties Friday, who have begun negotiating terms and conditions. "My feeling is the operating terms and conditions are satisfactory, however, the legal terms and conditions need additional work," Tyson wrote of the document that all three entities hope will shield them from liability.
Tyson was also able to shed some light on changes to the Humboldt County Department of Health and Human Services' initial pledge to provide up to $130,000 for the purchase of the Connex shipping containers that will be converted into temporary housing. Over the weekend, the county announced that it has reconsidered and will now be making a "substantial funding contribution" to the Betty Kwan Chinn Foundation's family shelter project instead.
"There has been concern on the part of county staff that these 'containers' meet basic health and safety requirements for housing people," Tyson wrote. "Because of these concerns, I proposed the county provide funding for the Foundation's Family Shelter Facility, which would free up some of our building funds to be used to purchase the containers. This eliminates the county staff liability concerns as the county is no longer funding the container project and they are now funding the Family Shelter Facility, which fits with their mission of Housing First."
Asked if, in his decades of experienced in local government, he's ever seen a project like this undertaken on such a tight timeline, Tyson said yes, just not one to serve the homeless.
"We've rebuilt buildings, roads, seawalls, docks and other infrastructure after natural disasters in similar timeframes," he wrote. "This is an unusual circumstance that requires an aggressive approach."
PREVIUOSLY (posted April 22):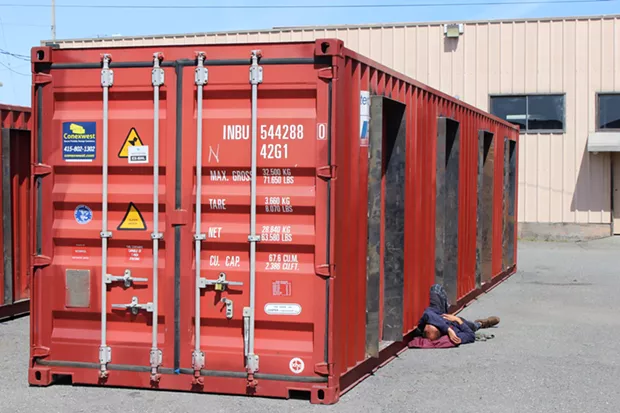 Thadeus Greenson
A homeless man sleeps in front of a shipping container proposed to be converted to temporary housing in a lot at the corner of Third and Commercial streets in Eureka.
The vacant lot at the corner of Eureka's Third and Commercial streets was abuzz with activity this morning, with a collection of contractors cutting holes in shipping containers and busily readying the site to welcome some 40 homeless people soon to be evicted from the Palco Marsh.
With just nine days until the city of Eureka begins evicting marsh dwellers, the shipping container project — a joint venture between the Humboldt Coalition for Property Rights and the Betty Kwan Chinn Foundation — continues to press forward, working to meet an ambitious and
inflexible
timeline. Perhaps not surprisingly, much about the particulars of the project remains unclear, so much so that one person involved with planning for the project likened it to building a plane as it careens down the runway.
To recap: HumCPR, a property rights advocacy group, and local philanthropist Betty Chinn shocked just about everyone when they held a
joint press conference
on April 13 announcing their plan to convert seven Connex shipping containers into temporary living quarters for homeless people currently camping in the marsh. At that point, the collaboration was just about two weeks old, with Eureka officials having only learned a few days before the press conference about the plans to place the small, temporary community of 40 or so residents on the Mercer Fraser Co. owned lot.
This morning, contractors were busily working to cut door and window holes into the container walls, and generally prepare them for human occupation. The project cleared a major hurdle Tuesday, when the Eureka City Council
voted 4-1
, with Councilmember Melinda Ciarabellini dissenting, to modify its shelter crisis declaration and authorize staff to enter into agreements with HumCPR and Chinn to move the project forward. All eyes then shifted to the county Department of Health and Human Services, which was expected to get an item on next week's board of supervisors' agenda requesting approval to pledge up to $130,000 to the project to cover the purchase and renovation of those Connex containers. (HumCPR has already raided its own coffers to purchase the containers but is hoping to be reimbursed to free up its funds for other aspects of the project.)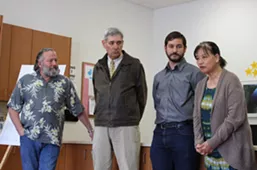 Thadeus Greenson
(From left to right) HumCPR co-founder and county Planning Commissioner Lee Ulansey, Eureka Mayor Frank Jager, HumCPR Executive Director Alec Ziegler and Betty Chinn at the April 13 press conference.
So it was a bit of a head scratcher when the agenda came out for next week's board meeting and the funding request wasn't on it. In a statement emailed to the
Journal
this morning, DHHS spokesperson Heather Muller explained that the original plan — announced by HumCPR co-founder Lee Ulansey at the April 13 press conference, which was attended by DHHS Director Connie Beck — has changed. She noted that because of Eureka's May 2 deadline to evict those living in the marsh, "the plan needed to come together quickly and … some of the specifics are still being worked out."
"That said, having given the proposal more thought over the past week, we believe DHHS can better support the project and the community with a significant financial contribution to the Betty Kwan Chinn Foundation toward the remodeling and expansion of its Family Shelter," Muller wrote. "We've met with foundation representatives who expressed their support and assured us they would still be able to move forward with the Betty Chinn/HumCPR project as planned."
(See Muller's full statement copied at the bottom of this post.)
Reached by phone this afternoon, Ulansey said the partnership — dubbed the Greater Eureka Community Outreach Program (GECOP) — is still moving forward, though he conceded he's not at all sure how the project's financing will pencil out. The nonprofit Betty Kwan Chinn Foundation's board has approved the partnership but hasn't pledged any funding toward the project, and Chinn has indicated to the
Journal
that the organization doesn't have any to give.
HumCPR has so far been bankrolling the project, Ulansey said, but doesn't have the means to carry the whole thing itself. Ulansey said he's still working in anticipation that the project will obtain some funding from the county or other sources, but has so far received no guarantees. Ulansey said GECOP considered reaching out to the Headwaters Fund and the Humboldt Area Foundation, but determined neither could approve a donation or grant under such a tight timeline.
Ulansey said the group is reaching out to private foundations and individuals to solicit donations but doesn't have time to wait for all the pieces to fall into place. To meet the city's May 2 timeline, the work needs to get done, Ulansey said, so GECOP is simply spending HumCPR's money and hoping things pencil out in the end. "We're just going to get it done," Ulansey said. "The homeless in the Palco Marsh don't have a choice so we don't feel like we have one either."
This week will be a busy one. Monday and Tuesday will see contractors placing interior partitions into the Connex containers, turning each into four separate 10-by-8-foot rooms. Wednesday will see the boxes painted beige, which Chinn said she chose because it's a calming color. Thursday, doors are scheduled to be delivered to the site so they can be installed Friday. Chinn's hoping to begin moving people in May 1 — a week from tomorrow.
Ulansey said the container community is almost certain not to be a finished product by then. Windows, he said, are in incredible demand throughout the state and there's no way to get 20 of them delivered in time. So, he said, the plan is open the community with metal screens and possibly some kind of plastic sheeting over the window holes with the understanding real windows will be installed within a week or two. Other touches — like the picnic tables being crafted by Eureka High School shop classes and wood planter boxes being built and planted by Freshwater Elementary School students — also may not be ready for move-in day.
Plenty of other pieces are still taking shape as well.
Thadeus Greenson
A model of a renovated container and a site plan.
Ulansey said GECOP has zeroed in an insurance policy that seems like it will work for primary coverage, and he said HumCPR and Chinn's foundation have a draft memorandum of understanding in the works with the city. On the surface, this appears a bit tricky. Obviously, the city will want to make sure it's indemnified from any potential liability arising out of the container project, but HumCPR and the foundation also have some concerns. "We'd like to see some protection for us, too," Ulansey said. "If the city gets sued because of what's happening at the marsh, we don't want to get dragged into that, either."
It's also unclear exactly how operational expenses will be funded. Once the containers are fully renovated and the parking lot is fenced off, GECOP will still have to fund three full-time caseworkers to manage the site, 24/7 site supervision, bathroom and garbage services, water and electricity, insurance premiums and maintenance costs. It's unclear exactly what those costs will come to — Ulansey referred the
Journal
to Chinn's foundation for the list of costs, and Chinn sent us to HumCPR Executive Director Alec Ziegler, who said he's out of town but could get us a rough budget on Tuesday.
On Thursday, Ulansey told the Journal that a chunk of the $130,000 DHHS had pledged to the project — pending board approval — would go toward operational expenses. But it appears that was never part of DHHS's plans, which have now changed anyway. During last Tuesday's Eureka City Council meeting, Ciarabellini expressed a number of concerns about the project, including the lack of a firm site plan and budget. This was brought up during Thursday's conversation with Ulansey, and we asked what he would say to those concerned the project might run out of funding a couple of months in.
"I can assure the city that every single dollar they give us will be well spent," Ulansey said. Reminded that the city council has been very clear that no city money will be spent on this project or any others aimed at helping those displaced from the marsh, Ulansey responded, "That's what my point is."
The planning commissioner then said those with concerns should take a look at the entities involved with this project. Both HumCPR and Chinn's foundation, he said, are "long-standing organizations" with track records to point to in this community. "I think there are overall expectations or our being able to follow through on what we're proposing," he said. "We're pretty credible."
But because HumCPR is not a nonprofit and its financial records aren't public, it's hard to know how deep its coffers are (both Ziegler and Ulansey have indicated the organization can't bankroll this entire project). With a hard accounting of operational expenses for the project still similarly unknown, trying to gauge whether this effort can be sustained for six months is a murky endeavor. What if the project runs out of funds and is forced to close in three months?
"What will happen then is all the people we have transitioned (from the containers to permanent housing) aren't still homeless out in the community," Ulansey said, adding that others will have had a several-month reprieve from being out in the elements. "Overall the problem is reduced by however many people we can help."
The lot at the corner of Third and Commercial promises to be a bustle of activity for the next nine days, after which it will become Humboldt County's single most interesting social experiment. Some will be watching to see if it turns into the den of drug activity and the crime magnet
some property and business owners in the immediate vicinity fear
. Others will be hoping the project will give people in desperate need a hand up, helping them stabilize their lives briefly before connecting them with services and guiding them into permanent housing.
Ulansey said he's grateful for the support the effort has received so far, going out of his way to thank the Eureka High School shop students, Freshwater Elementary School, the Mill Yard, Schmidbauer Building Supply, O&M Industries, Adams Commercial General Contracting, JLF Construction, Bongio Construction and Mercer Fraser Co., all of which have donated goods, services or both. Ulansey also urged anyone else interested in volunteering or donating to get in touch with the Betty Kwan Chinn Foundation Day Center, 407-3833, or to send a check made out to the foundation with GECOP in the memo line to PO Box 736, Eureka, California 95502.
Meanwhile, the city of Eureka's
request-for-proposals
application process for other groups looking to set up temporary living arrangements or other programs to help those soon to be pushed from the marsh closed Friday. As of the April 13 press conference, the city had yet to receive any responses. (Emails to City Manager Greg Sparks and City Clerk Pam Powell inquiring if there were any submission on Friday went unreturned.) For his part, Ulansey said he looked at the RFP from the city when contemplating the container project and thought there was simply no way his organization could meet all the qualifications. So, he said, he just decided to try to put something together anyway.
"If we can make the problem a little better, I'll consider that to be a huge success," he said.
Full statement from DHHS spokesperson Heather Muller:
Our original intent with the Betty Chinn/HumCPR project was to recommend that the Board of Supervisors approve a plan for DHHS to contribute up to a maximum of $130,000 for the purchase of five conex containers, their transport to the designated site and whatever basic modifications to them needed to be made. Our understanding was that other organizations and individuals would be contributing additional money, time, labor and materials to the overall effort. Because of the City of Eureka's May 2nd deadline, the plan needed to come together quickly, and I think some of the specifics are still being worked out.
That said, having given the proposal more thought over the past week, we believe DHHS can better support the project and the community with a significant financial contribution to the Betty Kwan Chinn Foundation toward the remodeling and expansion of its Family Shelter. We've met with foundation representatives who expressed their support and assured us they would still be able to move forward with the Betty Chinn/HumCPR project as planned. We intend to take the new funding proposal to the Board of Supervisors on May 3rd and hope to talk to you more about it then.
Editor's Note: This story has been updated from a previous version to correct a misspelling and more accurately reflect GECOP's consideration of applying for loans or grants from the Headwaters Fund and the Humboldt Area Foundation.