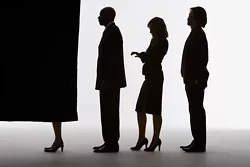 Humboldt County voters: Here's your chance to take part in the arcane and confusing tradition of presidential delegate selection. Hold on to your butts.
On May 1, the Democratic Party will choose eight delegates each from the Hillary Clinton and Bernie Sanders camps to potentially represent California's 2nd Congressional District voters at the Democratic National Convention in Philadelphia in July.
Thirty-six men and 55 women are vying for the chance to represent Sanders (four of each will be chosen as his 2nd District delegates), 15 of whom are from Humboldt County (including EPIC executive director Natalynne DeLapp). It's unclear how many people have thrown their hats in the ring to represent Clinton.
If you would like to choose who will travel to the birthplace of American Democracy and cast a pre-chosen vote for the next Democratic presidential candidate, you're in luck.
Doors for the caucuses open at 2 p.m. on Sunday and close promptly at 3. Those who make it inside — registered Democrats only, but you can switch affiliations or register at the door — will be treated to short speeches from the delegate candidates and get to vote for their selection.
Here's the catch: You can't attend both. If you want to vote for Bernie delegates, head to the Labor Temple at 840 E St. in Eureka. If you want to choose Hilary's delegate, head on down to the Wharfinger Building at 1 Marina Drive.
Because California's 2nd district is geographically large, a democratic caucus will take place simultaneously in San Rafael. In a press release, Humboldt Democratic Party Chair Bob Service said, "North Coast Democrats are extremely fortunate that both the Clinton and Sanders campaigns, working together with the California Democratic Party, have chosen to hold delegate selection caucuses here in Eureka. This is a real opportunity to have our voices heard."
Delegates for both the Democratic and Republican candidates are divvied up by the popular vote in the California primary election, which will take place June 7.
If you're more interested in who will represent Republican candidates at that party's national convention in July, you're going to have a little less luck. It's unclear when the California Republican caucuses take place, or if there will be any local elections of delegates.
Joe Bonino, a Humboldt State University accountant who's been involved with the Humboldt Republican Central Committee for years, said he's never known who's represented 2nd District at the national conventions, and said it hasn't mattered much in the past. Delegates pay their own way, and are beholden to vote for the person they've pledged to vote for in the delegate selection process.
But this year's Republican National Convention could, potentially be more exciting. Delegates must vote for their pledged candidate during the first round of voting at the national convention, said Humboldt County Republican Central Committee Chair Annette De Modena. If that first round fails to secure a candidate — an outcome some party members have been diligently working toward in order to unseat voter favorite Donald Trump — delegates can then vote for whomever they please.
So choosing 2nd District Republican delegates could be pretty important. At this point, however, De Modena says the local party is waiting on instruction from the state party when it comes to the delegate selection process. For more information as it becomes available, visit the Humboldt County Republican Party at 311 Fifth St. in Eureka or contact the party at 442-2259 or contact@humboldtgop.org.