Thadeus Greenson
The container community will ultimately house 40 people for up to six months, beginning Sunday.
Less than 72 hours before more than 100 homeless people are slated to be evicted from the Palco Marsh area, a new temporary housing project to accommodate 40 of them is taking shape.
Down at the corner of Commercial and Third streets in Eureka, a bevy of construction crews worked busily this morning to continue converting five Connex shipping containers into temporary living quarters. As contractors attached doors and electricians ran wiring, a chain link fence was being erected around the property.
The
project
is a joint effort of the Humboldt Coalition for Property Rights and the Betty Kwan Chinn center, who paired up at the proverbial 11th hour to put together a new housing option for some of the people soon to be displaced from the marsh. With the smell of paint fumes and construction sounds heavy in the air, HumCPR co-founder and sitting county Planning Commissioner Lee Ulansey said things are falling into place: a construction project trailer is slated to be delivered later today to serve as the operational office of the community, portable toilets are already on site and three staff members have been signed up, all of them with (or a couple weeks away from completing) a masters degree in social work.
Thadeus Greenson
HumCPR co-founder and Humboldt County Planning Commissioner Lee Ulansey instals a doorknob on a renovated shipping container at the corner of Third and Commercial streets Friday morning.
Reached by phone while she was down at the Palco Marsh talking to prospective residents of the container community, Chinn said she's already done intake interviews and has a list of several dozen folks slated to move in beginning Sunday. There are still plenty of loose ends to tie up: Chinn said she's borrowing cots from the local Red Cross until beds are delivered in a week or so and Ulansey said windows for the containers won't be delivered for another week or two, so crews will install metal screens to make do in the meantime. But the biggest hurdles remaining for the project seem to be the signing of an operating agreement between Chinn and HumCPR's newly formed Greater Eureka Community Outreach Project (GECOP) and the city of Eureka, and a lease-leaseback arrangement between the city and Mercer Fraser Co., which owns the vacant lot.
"We are diligently working with the city, trying to resolve the operating agreement and the lease agreement with Mercer Fraser as quickly as we possibly can," Ulansey said. "It remains the last piece of the puzzle. … I'm totally confident that we'll be able to come to a resolution with the city. The only question is: Will it be in time?"
Ulansey said the parties have been "going back and forth" trying to find an agreement that addresses their respective liability concerns and fits with the insurance policy available for the project. (As a side note, Ulansey said the folks at George Peterson Insurance have worked double time to secure a policy that will work for the project and can be put in place as soon as an operating agreement is signed.)
Eureka City Attorney Cyndy Day-Wilson is in Oakland today, where a judge will decide whether to grant a temporary restraining order preventing the city from following through with evictions (more on that
here
and
here
), which could delay the finalization of the operating and lease agreements. Former Humboldt County District Attorney and Betty Kwan Chinn Foundation board member Paul Gallegos is helping to craft the agreements for GECOP. Attempts to reach both Gallegos and Mercer Fraser Co. owner Justin Zabel for updates on the agreements were not immediately successful.
Thadeus Greenson
A row of doors waiting to be installed.
Eureka City Manager Greg Sparks said he's hopeful both agreements will be signed today. It's worth noting that the city is counting on this project to cross the finish line by Monday's deadline, so much so that Day-Wilson included its 40 beds in a tabulation of available shelter space in the city's filing to the federal court Wednesday, despite the absence of the formal agreements needed to move the project forward.
Chinn said her plan is to move people out of the marsh and into their new container quarters Sunday morning, adding that she has volunteers with trucks lined up to help people transport their belongings. Additionally, Chinn said she'll get the new residents into her shower facility prior to move-in and will have clean, donated clothes on hand for people who need them. It's important, she said, for them to have a clean start in their new, if temporary, homes. "It should be good," she said.
Ulansey and Chinn said an influx of donated services and volunteer time are helping to push the project forward. Chinn said the Eureka High School football team is slated to come by the property tomorrow to help set up bedding and prepare for residents' arrival Sunday, and Ulansey said JLF Construction, Bongio Construction, Adams Commercial General Contracting and Bailey Electric are all donating services to the effort.
As Ulansey spoke, a painter, Tim Lindow, approached to ask if Ulansey felt it was too windy to paint the exterior of one of the containers (it was). This project holds a special significance for Lindow, who teared up a bit explaining how he and his family wound up homeless for several months after moving to Humboldt from Palm Springs in the late 1980s.
They'd arranged to stay with a friend with a few weeks until they got on their feet, but that fell apart and Lindow said they found themselves camping. He said it was hard finding a job at the time and local contractors repeatedly told him they preferred to hire local people. Lindow said the Redwood Community Action Agency was a wonderful help, putting them up at a shelter and getting them enrolled in a food stamp program.
After about six months, Lindow said he found himself tempted to scale back on the little work he was getting in order to qualify for more assistance. "It's addictive," he said, adding that he was able to resist the temptation and find more work until he and his family were on stable footing. Now, almost 30 years later, he's helping put together a temporary shelter for people in a similar situation to what he faced.
"It feels awesome," he said. "It's good to give back."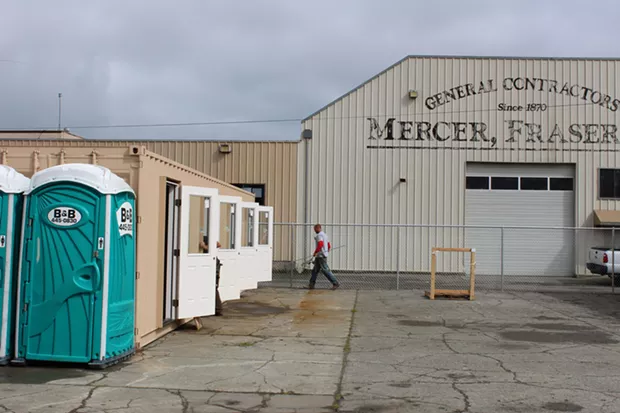 Thadeus Greenson
Work crews installed doors on renovated shipping containers at the corner of Third and Commercial streets.