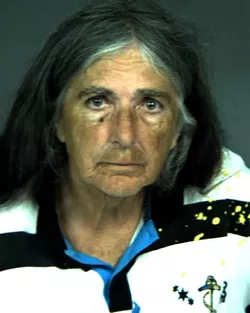 Eureka Police Department
Hollie Klingel's booking photo.
Although a handful of advocates and homeless people shouted as the PalCo marsh was forcibly vacated by the Eureka Police Department on Monday, and
the Vagabus
, bedecked with signs of protest, made a surprise return appearance after eking its way as far south as Garberville, the only protester to actually be arrested was 73-year-old Hollie Klingel.
Klingel, who volunteers part-time at the Area 1 Agency on Aging, arrived before the police on the morning of May 2.
"I came because I have to," she told the
Journal
, leaning against a car with a cane in her hands. "I am prepared to be arrested."
She also sent a letter to the
Journal
's office that morning, which said in part that she had prepared her grandchildren, for whom she helps care, for this eventuality.
The arrest itself was rather anti-climactic, according to Klingel. She was sitting on the concrete beams that blocked the parking lot off from traffic when some officers strung yellow "do not cross" tape in front of her, leaving Klingel inside the barrier. When they asked her to move, she refused. Several officers tried to convince her to leave the area, but she dug in her heels. Finally, they brought her over to the booking area and filled out her arrest paperwork.
"I was so silly," she told us the day after her arrest. "I was apologizing to them for causing an inconvenience, but I felt like after I said, 'no.' I had to stand my ground, you understand?"
She added that the officers were largely respectful, with the only discomfort coming when her hands were handcuffed behind her back on the ride to the jail.
"They did ask me if I was going to do anything dramatic like throw myself on the ground,"
she said, "I said 'No, I'm too old and stiff for that.'"
So, after a brief stay in the county jail's lobby, watching re-runs on the television, Klingel walked over to the A1AA's office and got a ride back down to the mall with a fellow volunteer.
This was the first time in her life Klingel had been arrested, but she said it was worth it. Although she wouldn't go into details, she said that homelessness and mental illness has had a profound effect on her family, and she didn't approve of the evictions.
"I needed to do something, and this was something I could do. I grew up here and I am outraged that they are spending the amount of money they are spending on this trail by the bay, which will be underwater in three years," she said, referencing global warming. "My feeling is they are using the grant money for the trail as an excuse to move people out of there, but there's no place for them to go."