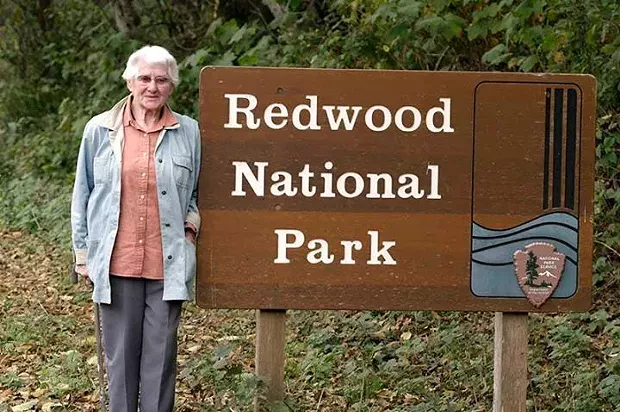 Ron Mastrogiuseppe
Lucille Vinyard
The "Mother of Redwood National Park," a woman who once gave
a funny, irreverent interview
to the
Journal
about activism, widowhood and Ronald Reagan's predilection for makeup, Lucille Vinyard, is being honored at Humboldt State University on Sunday, May 22.
Vinyard, who
passed away in December, a day after her friend and fellow activist
, Susie VanKirk, was instrumental in preserving sections of old growth redwood during the 1960s. The debate about logging was so contentious that, at one point, she had to be escorted in and out of meetings, for her own safety. Dan Sealy, vice-president of the Northcoast Environmental Center's board of directors, described her as a "really, really brave person."
"She loved to hike, loved to be outdoors and she wanted everybody to love the outdoors the way she did," said Sealy.
Community members are invited to bring their own recollections of Vinyard to share on May 22.
From Sue Leskiw of the Redwood Region Audubon Society:
Community members are invited to gather for a Celebration of the Life of Lucille Bartlett Vinyard, who passed away on December 30 at the age of 97. The event will be held on Sunday, May 22, starting at 2 p.m. at the Kate Buchanan Room on the Humboldt State University (HSU) campus (directions at www.humboldt.edu/maps/rooms). A few invited speakers will share remembrances of Lucille. Then, attendees can add to her story via an open mic (2-minute maximum each). After the reminiscences, participants are welcome to mingle and enjoy champagne and desserts. A selection of Lucille's journals, correspondence, diaries, reports, and photos from her HSU archival collection will be on display.

Lucille was an accomplished environmental activist and conservationist, known to many as the "Mother of Redwood National Park." In 1964, she helped form the North Group of the Sierra Club's Redwood Chapter and led in the battle to preserve the remaining ancient redwood forests in the region. She was a founding board member of the Northcoast Environmental Center (NEC) and the Redwood Natural History Association. Lucille is also remembered for her efforts to pass the California Coastal Zone Protection Act and the California Wilderness Act.

If you would like to contribute a short piece about Lucille for sharing through the NEC website, send them to fomuir@gmail.com. The family asks that in lieu of flowers, donations be made to the HSU Library's Vinyard and Van Kirk Trust, to help pay for archiving the records of Lucille and Susie Van Kirk (who passed away one day after Lucille) or to the Vinyard/van Kirk Environmental Education Fund, which supports sending local children to outdoor camp. The link for the HSU account is https://library.humboldt.edu/giving/vankirk.html. To make a camp donation, send a check payable to North Group Sierra Club, P.O. Box 238, Arcata CA 95518. Please write "Camper Fund" in the memo line.

If you have questions, contact Sue Leskiw at sueleskiw1@gmail.com.