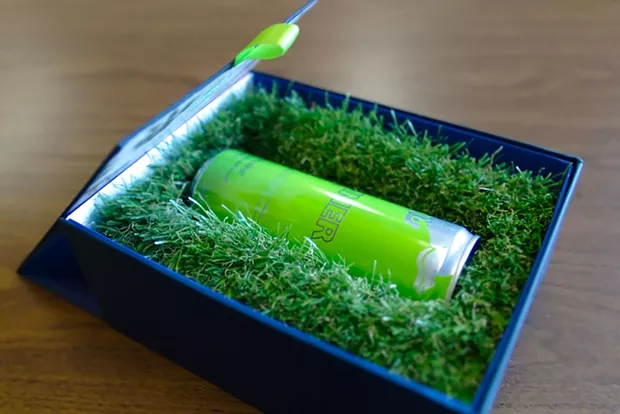 It was with incredulity that
Journal
staffers gazed on a slender green can of caffeinated pop dressed up in gaudy packaging that arrived last week.
There, in front of us, was a piece of bona fide swag. A well constructed box with a green ribbon pull, embossed lettering, and printed with a somewhat ominous countdown: 93 days, 15 hours, 47 minutes. It's unclear what was supposed to happen three months from the box's arrival; it's clearly a summer product, but summer was more like 60 days away when the box arrived, and how could the energy drink's marketers possibly know the minute it would show up at
NCJ
HQ?
And, as if the implication wasn't clear, the box included a business-card sized instruction manual: "Don't forget to give_____ a shout out for this sneak peek!" with a pair of suggested hashtags. Message received, ______ .
Our minds raced. First we chuckled at the irony of a sugary (38g!), palpitation-inducing beverage in a single-use can arriving in a heavy, expensive-to-ship (carbon footprint!) package featuring plastic astroturf, foam and unrecyclable cardboard shortly after the
Journal
's
green issue
hit stands.
(The packaging is presumably intended to invoke the pleasures of laying on fresh cut summer grass but the box looks like a fucking grave, right? Is that some kind of Freudian marketing slip?)
Then we wondered, "Why us?" Sure, we get the occasional self-published book for review, and sources sometimes offer to buy us coffee. This reporter was handed a plastic logo-emblazoned Nalgene bottle at an event last week (it seemed rude to decline), and has felt guilty about it ever since, confessing the impropriety to a superior moments before this blog post went live.
But the
Journal
rarely receives expensive promo materials from mulit-billion dollar soft drink corporations. Sure, the economy of scale allows their marketing machine to pump out fancy advertisements, but if a podunk weekly alternative rag like ours
was getting one of these, hundreds — maybe thousands — of them must have been shipped to thirsty newsrooms across America.
Now, not to begrudge certain assistant managing editors at other newspapers (ahem) and others who might enjoy the flavor and kick of these sort of drinks, but our readers don't exactly seem like the macho soda demographic. So we can only assume the summer countdown swag project was a shotgun blast of gift boxes to every news outlet appearing on some mailing list.
We wrestled with whether to even write something about this, but it seemed so silly, and so ironic that we couldn't resist. Maybe later, if we're really bored, we'll mix it with
weed vodka
.