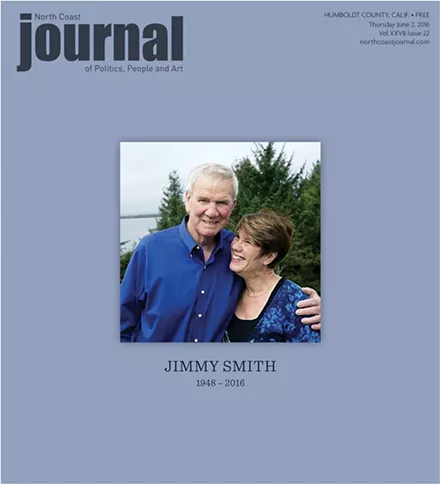 Busy week? We get it. Here are some highlights from the cover to get you caught up.

Former Humboldt County 1st District Supervisor Jimmy Smith — a man revered as much for his kindness as his work ethic — died May 24 at St. Joseph Hospital after a long fight with cancer. He was 67.
A lifelong Humboldt County resident, Smith attended Eureka High School before enjoying a varied career as a commercial fisherman, harbor commissioner and waterfowl researcher before being elected to the board in 2000. He became known and widely admired for his hands-on approach to the job, personally inspecting rural roads and promptly responding to emails and voicemails from constituents. He sought consensus whenever possible, respected everyone and largely lived without pretense or ego, making him a perfect fit to head diverse teams that tackled large problems, like transforming the blighted South Spit into a wildlife refuge or crafting a seven-county water management plan.
As the local community mourned the loss of Smith, we went to a host of his former friends and colleagues, asking them to offer a few words that described Smith and a story about the man. We received dozens of responses. Here are a few.
1) Dedicated
: "Jimmy led by example and would do just about anything for anybody. If he couldn't solve a problem, he would find the person or persons who could. He noted every visit, call and conversation in notepads. He regularly checked his notes to make sure things were getting done. He worked 24/7, always helping others. When the budgets were tight he was the first person to cut his own pay. He didn't ask for reimbursement for mileage or other business expenses. He shouldered the costs himself. He wouldn't ask anyone to do anything he wouldn't do himself. Jimmy greeted everyone with a warm hello. He was always making rounds in the community to make sure things were OK, and to see if there was anything he could do to make things better. Jimmy knew that working together was the only way to get things done. He believed in treating (all) people with dignity, kindness and respect. He planted his seeds of kindness everywhere he went."
Former County Administrative Officer Loretta Sands, formerly Loretta Nickolaus
2) Jacque
: "Life behind the Board of Supervisors Chambers was more lively and dynamic than most people saw by just watching our meetings. There was gentle bantering, negotiating, problem-solving, meetings with constituents, department heads, project advocates/opponents and other electeds, and laughter. There was often laughter when Jimmy was around. And when the offices cleared for the lunch hour, it was often Jimmy in his office and I in mine continuing our work. Sometimes, there'd be a soft knock on the outer door and Jacque would walk in carrying a sack lunch for two looking for her "Sweetie." Jimmy's eyes always lit up as he greeted his "lovely bride" with a hug and kiss. I'd return to my office, and hear quiet murmuring of voices and the rustling of lunch. A good part of the essential fabric of Jimmy is Jacque and her unwavering support, faith and love."
Former Humboldt County Supervisor Jill Duffy
3) Genuine
: "In addition to being my confidant, my counsel and one of my best friends, Jimmy was also my duck hunting buddy. We took a lot of hunting trips together over the years but on this particular trip it was just Jimmy, me and my chocolate lab Katie. Whenever Katie and I were on hunting trips, I'd break home rules and bring a blanket to put on the bed so that Katie could sleep with me. She knew we were taking liberties we couldn't take at home, and she took full advantage of it, snuggling up to me all night. There's an old saying that dogs are a great judge of character, that they can tell a good person from a bad one. That was certainly true of Katie because, in the middle of the night, she bailed on me and spent the rest of the night with Jimmy in his bed."
U.S. Congressman Mike Thompson
4) Respect
: Many people know about Jimmy's love of the outdoors. He loved to tell people about the sounds ducks and geese make and what they mean. One day, Jimmy and I were out fishing for sand dabs on my boat, the Reel Steel. We had just filled a bucket with the tasty fish when a fish at the top of the bucket made a squeaking sound.
We both made comments that we had never heard a fish "talk" before and I went forward to start the boat. I looked back to see Jimmy carefully lift the fish and gently return it to the water. When he saw that I had seen what happened he got a sheepish look on his face and said he couldn't take listening to that fish anymore. It became a running joke between us.
He was a great friend and I loved him dearly. I'll miss him.
Tim Klassen
5) Integrity
: "Jimmy Smith didn't just talk about our community and the people who live here, he was the people and our community. Everything he did or was involved with focused on making our community better. Jimmy lived and demonstrated the philosophy of "Service above Self." He gave everything he had to work on issues, to bring people together and to reach a consensus with people who often had very different views. He led by example, in that quiet manner that was Jimmy. He taught so many of us how to work cooperatively and how to be a better example of ourselves. I will miss him."
Humboldt Bay Fire Chief, Bill Gillespie