Grant Scott-Goforth
A stitched-together panorama of the Bayport.
The
Journal
tagged along with North Coast Congressman Jared Huffman and the Humboldt Bay Harbor, Conservation and Recreation District earlier this week on a visit to the dredge
Bayport
, which is clearing winter storm shoaling that made Humboldt Bay's entrance
super dangerous
and prevented several cargo ships from docking this spring.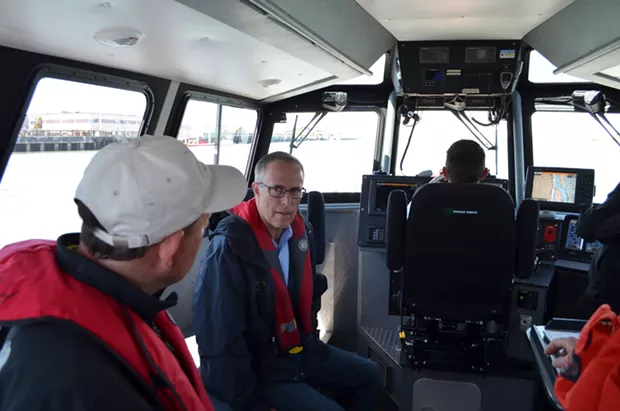 Grant Scott-Goforth
Huffman was joined by Harbor District commissioners Mike Wilson and Larry Doss. Bar Pilot Tim Petrusha piloted the fire boat shared by the Harbor District and Humboldt Bay Fire.
Grant Scott-Goforth
Petrusha closes in on the Bayport, which was dredging the inland portion of the entrance channel.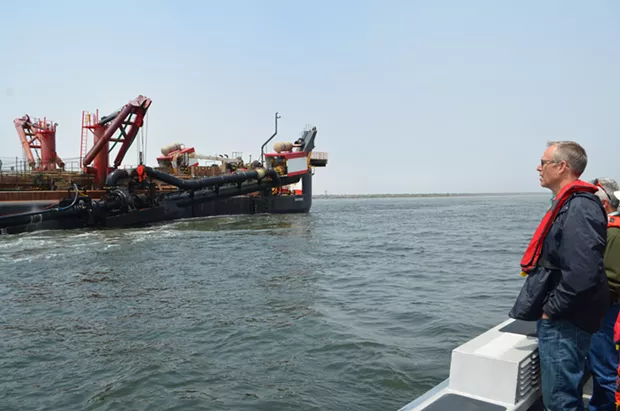 Grant Scott-Goforth
The channel work, overseen by the Army Corps of Engineers, was originally supposed to be done by the dredge Essayons, but the channel was too shallow for the boat to do the work so the Bayport was hired for the job.
Grant Scott-Goforth
Dredging is expected to take another several weeks.
Grant Scott-Goforth
This map shows the entrance channel and the areas being dredged.