Jennifer Fumiko Cahill
Chad Duran, Mason Trevino and Bill Shapeero at the Pride Picnic in Carson Park on Sunday.
On Sunday afternoon, Carson Park in Eureka was awash in sunshine as a dozen Pride Picnic attendees sat chatting at wooden tables. Most had woken up to the news of the early morning shooting at Pulse, a gay nightclub in Orlando that left at least 50 people dead, including the shooter, and another 53 injured. (See the
Orlando Sentinal
website for a
timeline
of the attack.) It was all the more reason to gather.
The massacre casts a shadow over the Pride month celebrations and parades taking place in communities around the country — Humboldt's Pride celebration isn't until September — but David Roble, president of Parents and Friends of Lesbians and Gays (PFLAG), felt it was important to go ahead with Sunday's get-together. "We don't want to let things happen in the community and make us stop," he said. "We also wanted a place for people to come and not be alone."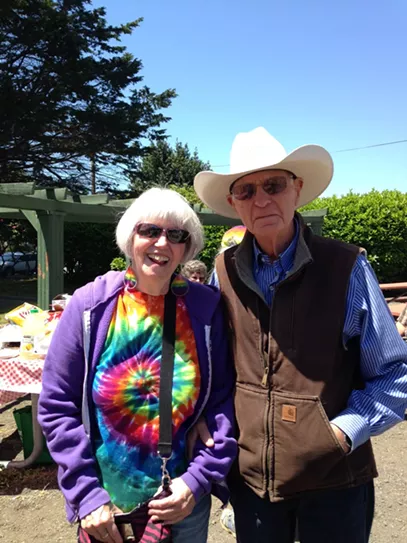 Jennifer Fumiko Cahill
Linda and Bill Shapeero.
It was a sentiment echoed by a number of PFLAG members. Eureka chapter founder Linda Shapeero shook her head, swinging her trademark rainbow earrings. "I'm just so saddened hearing about that because while we're making a lot of progress in our LGBT community, we still have the hate crimes." She and her husband, Bill, a soft-spoken man in a cowboy hat and Carhartt vest, drove in from Hydesville, listening to President Obama's address on the radio.
Sixteen-year-old Mason Trevino, who is planning to emcee at Pride this year and showed up in all black but for a rainbow necktie and a sparkly purple greasepaint beard, was already planning to come to the park. But after spending the morning crying over the shooting, Trevino said, "I thought it was important to be here with other people in this time of heartbreak and bring a little love and positivity."
"I grew up in Orlando and with hate crimes being a fact of life," said Ellice Fox, who left Orlando in 2004 and moved to Humboldt two years ago. In Orlando, she said, she didn't feel comfortable or safe being out and worried about showing even a little public affection with a partner. Even in the comparatively accepting "bubble" of Humboldt, she said, "it just makes you question, what if this happened at Club Triangle?"
Rick Khamsi, a retired social services worker and the son of a Persian immigrant father, said that when he considers the intolerance he sees in the world, "I think it's a miracle that [an attack like the one at Pulse] hasn't happened already." He said he struggles to understand how someone like the gunman, Omar Mateen, who the
Los Angeles Times
reports
was the child of Afghani immigrants and proclaimed allegiance to the Islamic State, lived in the US without embracing what Khamsi sees as American values of inclusion and equality.
Chad Duran, PFLAG events coordinator, didn't consider canceling for a moment, nor does he hesitate over attending Pride celebrations in September. "Not at all," he said, waving a hand. "Because of this awful fucker, ... no, it wasn't gonna stop me." He said that, as devastated as he felt as a gay man and a person of color, he wanted to see people out in the sun celebrating. "This is my community; these are my people," he said. "We're just gonna shine."