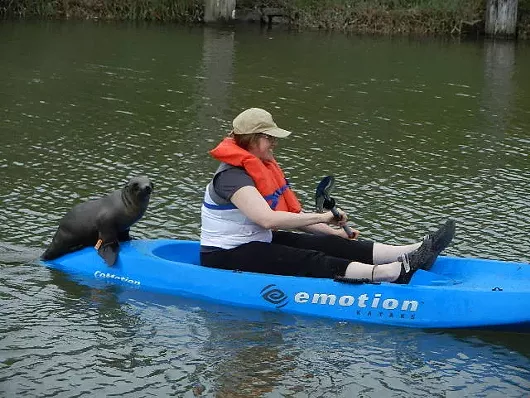 Photo by Randy Schuetzle
Hitchhikers in King Salmon are relentless, but at least they're polite.
It proved to be a pretty epic first kayak trip for Liz Bagnell.
Bagnell, a sales consultant for Northwood Chevrolet, had just moved down to King Salmon from Cutten, and set out to get to know her new neighborhood by hopping a kayak for the first time to paddle around the residential channels in her new backyard. A few minutes in, something caught her attention.
"Out of nowhere, I heard this kind of rustling and looked back, and (a sea lion pup) was playing in my wake," Bagnell said. "After about 30 seconds, he hopped up onto the back of my kayak. It happened really quick. Then, he just sat there, just like Sea World, just looking around."
A newcomer to kayaks and bay excursions, Bagnell said she wasn't sure what to make of her hitchhiking friend. "I was really nervous — I thought, 'He's really cute but he might chew my arm,'" Bagnell said. "But after a few minutes, I thought, 'I'm just going to go with it.' I was, like, squealing with joy."
So Bagnell paddled around for about 10 minutes with the little guy perched on back until he hopped off and swam to a nearby dock, apparently to check out a couple of Bagnell's neighbors who'd wandered out to get a look at Bagnell and her little stowaway.
Monte Merrick, co-director of the Humboldt Bay Wildlife Care Center, said sea lions and harbor seals are known to be curious things, adding that it's not uncommon to see one at the beach, bobbing on the surf line, checking you out, sometimes even raising a flipper in response to a friendly human wave.
Merrick cautioned that it's strictly illegal to approach or seek out encounters with marine mammals. But if one approaches you, as happened with Bagnell, Merrick said that's different. "In those situations, just grin and enjoy it while it lasts, but obviously don't encourage it, no feeding or anything like that, and don't approach them. … They're marvelous to observe but it's totally inappropriate to approach them."
Anyone who comes across a marine mammal suspected of being in trouble, Merrick said, should call the North Coast Marine Mammal Center's hotline at 951-4722.
For her part, Bagnell said the experience left her giddy and she's been back out in her kayak after work just about every day since.
"He was totally friendly. He was stoked to hop up on my kayak and ride around," she said, adding that the experience is just one of a handful that have her loving life in King Salmon. "It's a magical place to live. We are so happy with our new place. It's, like, insane."
Editor's Note: This story was updated from a previous version to correct the type of hitchhiker that hopped aboard Bagnell's kayak.