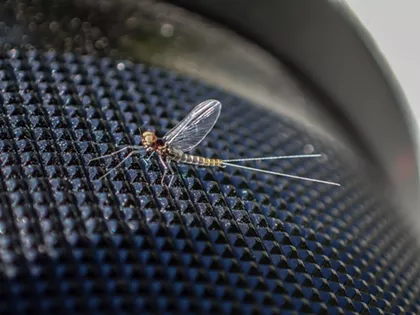 Anthony Westkamper
Tiny mayfly on the knurled lens barrel of my camera.
Since I started writing this blog, it has been my intention to be as current as possible so that anyone in the area might have the opportunity to see the critters I was talking about. On my recent trips down to the Van Duzen River, I've seen an increasing number and variety of "bugs" as the weather warms up. There have been numerous mayfly hatches of one of the smaller varieties. Which brought up the question, "What does a photographer do when his quarry actually lands on his camera?" The answer is: "He whips out his backup camera and takes a picture."
Anthony Westkamper
Whirligig beetles whirling!
Anyone who has spent much time poking around streams and rivers has encountered the wondrous "Whirligig Beetle." Shiny black ovals a bit over a quarter of an inch long they are a most remarkable animal. Easily seen as they pirouette wildly, skimming along the surface of ponds and slow moving streams. They are rarely if ever seen alone, but are usually members of a group. As confusing to watch as a game of three card monte, researchers have shown there is a method to the madness. The hungrier an individual is, the farther away from the center of the swarm they are likely to be, as there is less competition than in the center, but less protection from predators. Each of their eyes is divided into two parts: one part to see above the water, the other designed to work submerged. Like race car drivers one will often follow another closely to reduce drag, a process called "drafting."
Anthony Westkamper
Male bison snaketail perching on river rocks, showing enlarged end of abdomen.
I've also seen several species of dragonfly lately, among them the Bison Snaketail (Ophiogomphus bison). This chartreuse, yellow, brown, and black dragonfly rests on rocks on the river bar and dashes up to grab prey like those little mayflies out of the air, often returning to its roost to consume the victim. Their name comes from two minuscule "horns" on the head of the female, and the flaring out of the tail near the end resembling a cobra's hood. The flared abdomen is more pronounced in males.
Anthony Westkamper
Female bison snaketail showing teensy-weensy yellow "buffalo horns."