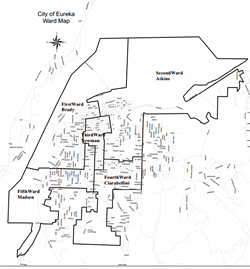 File
An old ward map for Eureka. The wards remain the same, but some of the council members have changed since this was put together (Natalie Arroyo now represents the 5th, and Kim Bergel represents the 3rd).
Eureka voters and their representatives appear to be fairly fired up about democracy, although they have a different opinions about how that democracy is best expressed. This was apparent in
Tuesday night's city council meeting
, in which the council voted 3-2, with Marian Brady and Melinda Ciarabellini dissenting, to put an item on the November ballot that would have voters decide on a true ward system.
As previously reported
, the city currently has a strange hybrid system, in which councilmembers are required to live in the ward they represent, but are voted in by the city at large. A switch to a true ward system would mean that councilmembers in a particular ward could only be voted in by residents of that ward. It would also shield the city from potential litigation, claims Eureka City Attorney Cyndy Day-Wilson. During the meeting, Day-Wilson cited other cases in which cities were sued for inadequate representation of minorities.
Day-Wilson acknowledged that in Eureka the "proportion of racial minority voters is low," but that the city should go to lengths to avoid further litigation (perhaps referring to the expensive 2012 settlement
in the Kathy Anderson case
). Furthermore, it's difficult to predict the outcome of such a case, as all of the ones brought against other cities have been settled. Day-Wilson also stressed the importance of deciding the matter on Tuesday, as the deadline to get it on November's ballot is approaching.
Public comment was largely split on the issue, with a few former and future council hopefuls weighing in. One speaker referenced the Bernie Sanders campaign, while another stated "If it ain't broke, don't fix it."
When discussion reverted back to the councilmembers, things got a little heated. Councilmember Natalie Arroyo said that despite representing a district with a high proportion of Latino and Hmong voters, the majority of people who appealed to her for representation were older and white. She expressed support for the idea of a true ward system. Councilmember Kim Bergel voiced cautious agreement but also asked for a second look at the "ridiculous" delineations of the wards as they're currently drawn.
Ciarabellini said, in short, that she found the measure unnecessary. Yes, cities had been sued, but all cities that were significantly larger than Eureka (Among them are four California cities, Highland, Rancho Cucamonga, Upland and Chino.)
"I have a problem putting something on the ballot without actually mentioning whether we're actually doing racially polarized elections," she said. "Where's the fire? Does it have to happen right now?"
Brady alleged that the move was "coercion," and expressed dismay at the money that would potentially go toward nailing down which voters belonged to which wards, heaping responsibility for the resolution onto Councilmember Linda Atkins.
Atkins, visibly annoyed, fired back and said the discussion of the ward system was prioritized during the city's strategic planning session and that Brady "hadn't paid attention."
The resolution ultimately passed, meaning this November Eureka voters can check a little box to decide which system they'd prefer. Two other resolutions that drew some controversy, including an amendment to the Shelter Crisis Resolution that added two more sites to the list of approved areas for overnight homeless camping, and a resolution that could raise the cap in government-subsidized low-income housing, were approved unanimously.