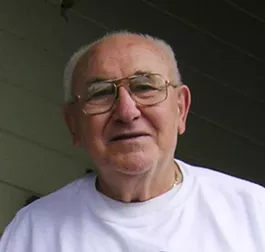 A prominent conservative voice on the North Coast and occasional
Journal
contributor, Gerald L. "Jerry" Partain, passed away on Monday, July 4. He was 91. Partain helped establish the Humboldt State University four-year Forestry Program. He was also the former director of the California Department of Forestry.
Ken Fulgham, a former student of Partain's who went on to become department chair for HSU's Forestry and Wildland Resources Department, described Partain as a "great guy,"
"He was very bright, obviously, and very much a visionary team builder, a great communicator, and really dedicated not only to forestry but the professionalism of forestry," said Fulgham.
Partain's legacy with the
Journal
includes
a passionate guest column
about the establishment of the Arcata Community Forest, and he frequently lent his opinion as an interviewee in articles dealing with issues of taxation and conservation. He was a unique voice for a group that often goes under-represented in local media, and he will be missed.


From the family:

Gerald L. Partain (Jerry) passed away quietly at the age of 91 in Eureka, on July 4th, 2016 (ironically he received his independence on Independence Day). Jerry grew up in the North Little Rock, Arkansas area. He enlisted in the Navy shortly after graduating high school in 1942, and graduated as a commissioned officer with a degree in Aviation Mechanics and Engineering. He served on both the U.S.S. Houston and the U.S.S. Missouri. He had a great love for forestry and graduated from Oregon State University with a degree in Forestry in the early 1950's. While at Oregon State he met and married Harriett Willard from Eureka in 1947. They had two children Melinda (Sheridan) and Steve. Jerry worked as an engineer in the Bay Area for Kaiser Engineering and Bechtel Engineering before moving to Humboldt County to help start the Forestry Program in 1954.

In 1957 the Humboldt State College Forestry program became a four year degree and the largest in the U.S at that time. As a professor at Humboldt State University he also received his PHD in Forestry Economics from Syracuse University. He met and married Betty Slagle Anderson in 1968. They moved to Bayside and restored a farm house where Jerry loved to work with wood and built many additions to the farm. It was not uncommon to see him playing with the goats or teasing the geese. In 1983 he was appointed the Director of California Department of Forestry (1983-89) and resigned from the university. He was later appointed Faculty Emeritus. Jerry was very involved and passionate about politics and was the Humboldt County Republican of the year in 1993. He lived a very full and colorful life, and traveled extensively until he suffered a severe stroke in 2008. He is survived by his wife Betty, daughter Melinda, step daughter Cindi Hunt, step son Grant Anderson, and grandsons Simon Hellyer, Cory Hunt, Chris Hunt, Kendall Hunt, three great grandchildren, and two special nieces, Jan Partain and Cheryl Good. He was proceeded in death by his parents, two brothers and his son Steve. In lieu of flowers please consider a donation to the Jerry Partain HSU Forestry Scholarship Program or Hospice of Humboldt. A reception will be held at the Wharfinger Bldg .1 Marina Way, Eureka, Ca.. on July 24th from 2::PM to 5:PM.