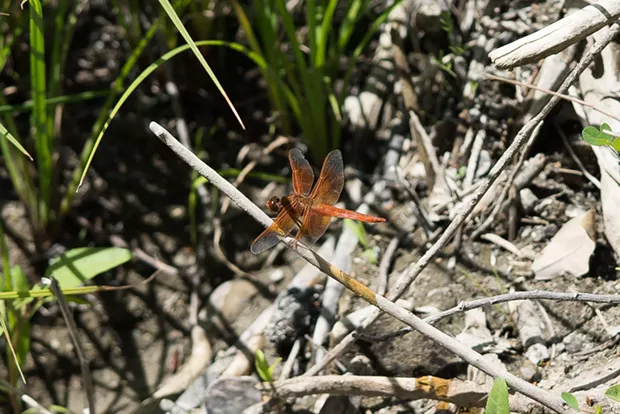 Anthony Westkamper
The male flameskimmer.
Saturday was the annual picnic of the Redwood Camera Club on the Avenue of the Giants. The majesty and beauty of the Sequoias always makes for an enjoyable ride. This was my first time to visit Williams Grove. It will not be my last. There are many good picnic spots, toilets and river access.
I was, of course, interested in seeing if the insect fauna on the South Fork of the Eel River is similar or different from where I regularly walk along the Van Duzen River. Flowing gently through low elevation redwood bounded valleys the environments are pretty similar.
In my neighborhood, I have been anticipating seeing one of my favorite dragonflies, the pale-faced club skimmer (B
rechmorhoga mendax
). True to the name "skimmer," I've watched them tirelessly cruising rapidly just a few inches over a wide flat on the Van Duzen. It is rare to see one land. This day, in this place, however, they were behaving differently. There was a pretty good hatch of a tiny species of mayfly in progress, and many were forming transient groups milling about at head height in the lee of clumps of willow. Recognizable by their overall black coloring and white patches near the end of their abdomen, the clubskimmers were flying through the churning formations over and over, grabbing lunch on the run.
Only occasionally seen at home, there were several flame skimmers (
Libellula saturata
). The brilliant orange males and brownish females perch on low dead twigs, dashing out to grab an occasional meal that happens by. All the specimens I was able to get close to displayed some wing damage, hinting that they had been around a while.
The big black and yellow Western river cruisers (M
acromia magnifica
) behaved just as they do in my own neighborhood. True to their name, cruising continually about 15 centimeters above the open spaces of river bar. In flight, they hold their abdomen in a distinctive shallow arch and are one of the largest dragonflies common in our area.
A single bison snake tail (O
phiogomphus bison
) put in an appearance. Judging from its bright colors and pristine wings, I suspect it had emerged in the last few days.
Miles apart, I was actually a little surprised to find nearly the same exact range of species in the two environments, although the relative numbers were considerably different.
Anthony Westkamper
A buffalo snaketail.
Anthony Westkamper
The female flameskimmer.
Anthony Westkamper
A western river cruiser in flight.
Anthony Westkamper
Palefaced clubskimmers enjoying an inflight mayfly snack.