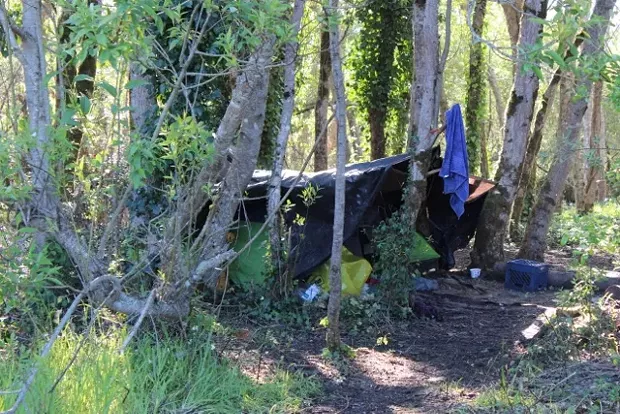 File
A former camp in the PalCo Marsh.
On Tuesday night the Eureka City Council voted 4-0, with councilmember Kim Bergel absent, to approve a
Storage of Personal Property Ordinance
that will allow the police department to tag, then bag property left on city land.
The ordinance comes as a response to recent issues with people leaving items behind after staying in designated sleeping areas on Del Norte and Koster streets, where the city has stated it will not enforce its no-camping ordinance during nighttime hours. Under the ordinance, police will leave a note for people who have left items behind, then, after 24 hours, they will remove the property and store it for up to 90 days. The ordinance includes phrasing that says people who do not comply can be ticketed.
Discussion and public comment on the ordinance were relatively short, compared to that for a similar ordinance pitched in September of last year. Councilmember Natalie Arroyo expressed concern that the ordinance would add another way to "cite people with very little resources."
"My hope is that our staff will be really thoughtful with regards to the penalty section," she said, adding that she would prefer it not to be in the ordinance at all.
The city is currently using its Shelter Crisis Resolution to create rotating sleeping areas where homeless people can pitch a tent between 7 p.m. and 7 a.m., so long as they pack up their stuff and leave first thing in the morning. But according to a report delivered by Eureka Police Department Capt. Brian Stephens during the meeting, the previous designated sleeping spot at the foot of Del Norte Street became piled with personal property that was not removed during the day.
"The property surrounding that parking lot is a public space," Stephens explained. "We had no justification to make them move out of that area. By the end of the 30 day period, we took a 40 yard dumpster out of there. We have seen an accumulation of property, above and beyond what they can move from one place to another. What we're trying to avoid is having property stored out in Wharfinger's field where other people might want to use that property."
Stephens referred to the Marina Way property, which will be the next site for sanctioned sleeping, beginning July 28. Currently people are sleeping in a Koster Street parking lot.
"Each area presents a unique challenge for us," said Stephens in a phone interview yesterday. He added that there are still five Connex shipping containers containing unclaimed property removed from the PalCo Marsh when it was cleared of encampments on May 2. The city recently sent out a press release stating if said property is not claimed by Aug. 5, it will be destroyed.
To date, Stephens said his department has been contacted by two people to make appointments to recover their property, but neither showed up. The boxes are on an undisclosed city property. Stephens said the police department will work with people who don't have photo identification, but they must make an appointment and come prepared to take all of their belongings with them. Personal property removed from city land under the new ordinance will fall under the same guidelines.
When asked if people coming to pick up their property could be cited for violating the ordinance, Stephens said it was a "difficult" question to answer.
"By the letter of the law they could receive a ticket," he said. "But in the spirit of the ordinance, it's an individual officer thing.That ordinance will help the most by letting us mark the property."