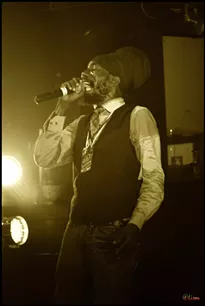 Flickr/Elise
Sizzla Kalonji
Reggae on the River kicks off this weekend but the festival's choice of headliner has some local LGBTQ groups wondering if "Murder Music on the River" might be a more fitting moniker.
In its 32nd year, the four-day summer music festival put on by the Mateel Community Center has confirmed Jamaican reggae artist Sizzla Kalonji will headline Saturday's lineup, marking his first performance in the United States in eight years. At first blush, the dancehall artist's appearance is a coup for the festival, as he's been nominated for Grammys, released more than 60 albums and landed on Billboard's Top Reggae Album chart 28 times.
But Sizzla, born Miguel Orlando Collins, has also earned a reputation for his homophobic lyrics that some say incite violence against the LGBTQ community. Most recently, Sizzla grabbed headlines when he was
banned
from performing at Jamaica's largest reggae festival in 2014 — Kingston's Sting festival, which is broadcast live to an estimated audience of 315 million people on five continents — for including an extended homophobic verse in one of his songs on the festival's stage the year before, an act that culminated with his jumping up and down and screaming "battyman," the Jamaican slang equivalent to "faggot."
"Sizzla has such a reputation … It's disappointing," said Todd Larsen of Queer Humboldt after learning the artist had been booked to headline Reggae on the River, which was first reported by Bob Doran in the
Mad River Union
. "I don't know what to tell you other than that it's disappointing because Sizzla is obviously no friend to the queer community."
He continued to say the news is extra disappointing because Reggae on the River has a history of booking socially conscious acts and promoting a message of unity.
Larsen was a part of the
local incarnation
of the Stop Murder Music campaign about seven years ago. Internationally, the campaign sought to raise education about music with lyrics that are either derogatory to LGBTQ communities or that actually incite violence against them. Its local incarnation sought to raise awareness about a number of controversial reggae artists — Buju Banton, Capleton and Bounty Killer — and resulted in the cancellation of a number of shows.
The local campaign was largely aimed at
education
and that it proved successful, Larsen said, noting that a number of local concert venues and promoters took to calling him and others to vet potential artists to make sure their musical content wasn't anti-LGBTQ before booking them locally.
The global campaign crested with the Reggae Compassionate Act, a petition set up by the campaign that asked artists to sign on, renouncing homophobia and pledging to drop lyrics promoting violence against gay people from their music. Sizzla's signing of the pact in 2007 was big news, as he was one of the world's most successful dancehall artists and also known for lyrics that included lines like "sodomite and batty bwoy, me say death for them," and, "shot batty bwoy with my big gun — boom!"
But signing the pact seems to have been more of a public relations ploy than a change of heart for Sizzla, as he has continued to play songs with homophobic lyrics, leading to protests and concert cancellations in Germany, Spain, Belgium, Sweden, Portugal, Canada and elsewhere. In a 2013 interview with a British website, Sizzla made clear he's not seeking the approval of LGBTQ communities.
"I don't want no sponsor from no homosexual," he told the site. "We are a people of the almighty God. We are a biblical people. Jamaica is a bible island. We live by the principle of the almighty and in our bible that we read, in the Hebrew bible, we totally abandon homosexuals. We are against it. So we don't need no support from them."
Multiple news accounts
report
that it was the U.S. government's revocation of Sizzla's work visa — possibly due to his homophobic lyrics — that has kept him from performing in the the country since 2008, but we've been unable to confirm that.
Sizzla comes to Reggae on the River at a time when gay rights issues are coming to a head in Jamaica, with the country's supreme court currently wrestling with a challenge to the nation's anti-gay laws, which include the threat of a 10-year prison sentence for having anal sex, and Human Rights Watch warning of "unchecked homophobic violence" in the island nation.
In an email reply to a
Journal
request for comment on Sizzla's upcoming performance in Humboldt, Mitch Trachtenberg, a local man who started a Humboldt Against Hate blog and was front and center for much of the local murder music debate, struck a somber tone.
"The United States and even Jamaica have come a long way in the past few years toward recognizing that gay people are people and that, among other things, it's not OK to sing lyrics that call for our murder," he wrote. "Sizzla has the right to sing whatever he wants, whenever and wherever he wants. It disgusts me but does not surprise me that Reggae on the River will pay him to do it."
Reggae on the River's media coordinator referred the
Journal
's requests for comment for this story to Mateel Community Center General Manager and Talent Coordinator Justin Crellin. Calls and an email placed to Crellin were not immediately returned, but we'll update this post if we hear from him.
Editor's note: The original version of this article contained the wrong photo. It has been replaced by a photograph of Sizzla Kalonji. The
Journal
regrets the error.