Linda Stansberry
Supervisor Virginia Bass speaks at the launch of the city and county's Housing First campaign. The cleaning supplies were donated by a local outreach group as a "welcome home" gift to new renters.
Today the city of Eureka and county of Humboldt officially launched their Housing First campaign. The get-together from noon to 1 p.m. at city hall featured light refreshments and a discussion on how to house 30 people in 60 days, an "achievable goal" recommended as the initial step for implementation of a larger Housing First plan by
Focus Strategies
, a consultancy firm hired by the city to help solve its entrenched homelessness problem. But how successful the city has been, and will be, on implementing Focus Strategies' recommendations depends on who you ask.
Recommendations from Focus Strategies, which Eureka paid $80,000 in 2014, include adopting a county-wide Housing First model. Eureka has historically borne the brunt of countywide issues with homelessness and poverty. In January of 2016, the city and county
met for a historic joint meeting
and later agreed to adopt and implement the recommendations of the report, which also included strengthening the Mobile Intervention and Services Team (MIST), creating low barrier pathways to housing and using data systems to track progress.
"We've kind of been doing it all along with the implementation of the MIST Team, and [Multiple Assistance Center], as well as setting people up in the container village," said Melinda Petersen, Eureka's housing projects manager in a phone interview, referring to the
joint project between Betty Chinn and the Humboldt Coalition for Property Rights
, in which shipping containers were converted into small dwellings. "What we're trying to do is kick off 30 folks in 60 days. We've been moving them along since January, housing folks."
City Manager Greg Sparks made similar comments
in an interview
with the
Times-Standard
last month, citing the container village and the MAC, and saying, "We've housed more than 30 people in the last 60 days."
But neither the Chinn-HUMMAP project nor the Multiple Assistance Center meet Focus Strategies' criteria for housing, which specifically states its clients should be "developing a range of housing opportunities that homeless people can access directly, not requiring long stays in transitional settings, and not imposing unnecessary barriers to permanent housing access." Temporary measures such as shelters or tent villages were contraindicated by the agency, which cautioned that any money spent on these and other stop-gap measures would take away from money that could be spent on permanent housing.
With an estimated 469 people living unsheltered in Eureka as of January of 2015, around 200 of whom were displaced in the May 2
cleanup of the PalCo Marsh
, the city and county did endorse some temporary measures, including the shipping container village and a rotating low-enforcement sleeping area where people are allowed to camp between 7 p.m. and 7 a.m. Finding the kind of long-term, permanent housing recommended by Focus Strategies may be more challenging.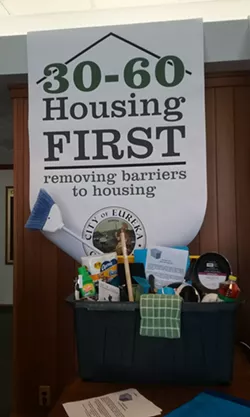 Linda Stansberry
A local outreach group is coordinating "welcome home" gifts for the newly housed.
In its report, the consulting firm did a housing analysis and estimated there were "approximately 259 rental units available in Humboldt County that could be used to house people who are homeless." This is almost one-third of the number of people estimated to be living unsheltered in the entire county (844, according to the 2015 Point in Time Count), but the firm said that "while this inventory is not huge we believe it is sufficient to make substantial headway in housing the people who are currently homeless." The firm said that if aggressive measures were taken and people doubled or tripled up in the available stock, the entire homeless population of Humboldt County could be housed within a year.
"Given the complexity of the mental health and substance use issues in the unsheltered homeless population, shared housing situations may be less than ideal for some individuals and will require some intensive services to help clients build interpersonal and conflict resolution skills," the report continues. "However, an assertive effort to house people in shared living situations will help speed the process of securing a place to live for each homeless person."
To this end, Focus Strategies recommended a support system to help people adjust to their new circumstances and mitigate issues with landlords. According to Petersen, the city has funded two Americorps caseworker positions with the Redwood Community Action Agency and three new housing specialists were introduced at today's press conference.
Recruiting landlords in an incredibly tight housing market (hovering at around a 3 percent vacancy rate, according to Focus Strategies) is one of the chief obstacles in finding people permanent, supportive housing. Sally Hewitt, DHHS senior program manager, confirmed that staff will be seeking apartments and rooms for rent, although in some cases clean and sober housing might be used.
"We've got some really good landlords," said Hewitt at the press conference. "I think we'll do better once word gets out that we're standing behind people."
Some money will go toward a risk mitigation fund to help with problem tenants or damage to property. Petersen said that funding continues to be an issue, and that a permanent funding source needs to be established. The first priority for housing, as per indications from Focus Strategies, will be people who have experienced chronic homelessness, up to and over a year. After the 60 days are up – on Oct. 7 – the city and county will reevaluate the effectiveness of their methods and decide how to proceed with the aggressive timeline recommended by Focus Strategies. Officials hope that today's event and future events will help spread the word to potential landlords, and that a successful model will be replicated in other cities.
Housing First — the concept that providing people with "no strings" housing increases their likelihood of success with supportive services to address issues such as addiction or mental illness — was first pioneered by Sam Tsemberis, a clinical and community psychology practitioner who will be a keynote speaker at a housing summit to be held this Thursday.
Supervisor Virginia Bass, who made some remarks during today's press conference, said that the collaboration and move toward Housing First took a long time in coming, as well as a lot of work, but ultimately was precedent-setting for California.
"The state is watching," said Bass. "It's just the beginning, but it's absolutely a remarkable day."