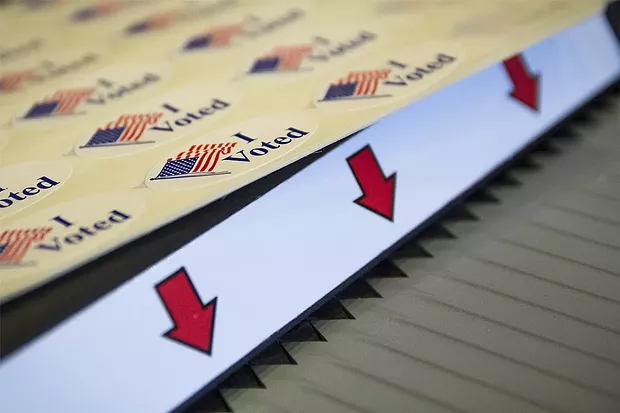 FILE
Election season is officially upon us.
With the dust settled after Wednesday's filing deadline, local city council races have solidified.
There was some movement — with one Eureka candidate, Allen McCloskey, bowing out due to health reasons and someone stepping in to take his place on the ballot — at the 11th hour, and it seems most cities will have at least one contested race on their ballots come November.
Here's the rundown:
Trinidad
has two candidates running unopposed for two seats: incumbent Jack West and Humboldt State University Director of Admissions Steve Ladwig.
Arcata
has five candidates vying for three open seats: incumbents Michael Winkler, Susan Ornelas and Paul Pitino, along with challengers Daniel Murphy, a local chef, and Valerie Rose-Campbell, a playgroup facilitator for the city.
Eureka
will see Eureka Faith Center co-pastor Heidi Messner running unopposed for the city's 2nd Ward seat, while local accountant John Fullerton and St. Joseph Hospital employee Austin Allison will square off on the race to represent the city's 4th Ward.
Blue Lake
has one qualified candidate for three open seats on the city's council:
Adelene L. Jones – an incumbent who is listed as a retired educator on her ballot designation. City Clerk April Sousa said t
he council will be deciding how to move forward at its next meeting.
Fortuna will see two candidates — former Councilmember Dean Glaser and local business owner Tami Trent — running unopposed for its two open council seats.
Ferndale
will see a pair of contested races. Vying for an open council seat are incumbent Daniel Brown and challenger Patrick O'Rourke, who lists his occupation as educator. For the mayor's chair, incumbent Don Hindley will see a challenge from Steve Nunes, who is retired.
Rio Dell
has three candidates going after two open council seats, with challengers Bryan K. Richter, a contractor, and Susan Strahan, a local business owner, taking on incumbent Frank Wilson, an electrician.