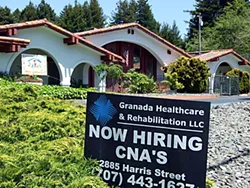 Rockport Healthcare Services, the management company for five of Humboldt County's six skilled nursing facilities, announced today that they have filed relocation notices for three sites: Pacific, Seaview, and Eureka Rehabilitation and Wellness Centers. The relocation notices, filed with the California Department of Public Health, are the first step in closing these facilities, which collectively contain 258 beds, and relocating their patients.
Stefan Friedman, spokesperson for Rockport, said in a statement that the company is continuing to work with community partners to "find a solution to [a] severe staffing crisis," but it is possible that after public health approves their relocation notice they will shut down the faciltiies.
That, said Area 1 Agency on Aging ombudsman Suzi Fregeau, would be "catastrophic."
Although many patients stay only briefly in skilled nursing facilities, receiving rehabilitation after leaving the hospital, the facilities are often the last stop for patients who cannot afford in-home healthcare professionals and need 24-hour care. Their vital role in the continuum of care
was felt last year
, when the facilities — five of which are owned by the same company, Brius Healthcare — stopped accepting patients. Hospital administrators, hospice workers and families all felt the pinch, and many North Coast residents had to go to facilities far away from Humboldt County. Fregeau said the potential closure will be even worse.
"It means that residents are going to be placed in facilities a minimum of 150 miles away," she said. "People are going to be dying in communities they've never lived in."
Last week, Rockport confirmed that the company has been unable to recruit qualified local nursing staff to meet the requirements of such facilities. California requires at least 3.2 hours of total nursing time per patient per day. The shortage of skilled medical staff is a countywide problem, affecting even the tiny eight-bed Jerold Phelps, in Garberville. Matt Rees, CEO of Southern Humboldt Community Healthcare District, confirmed that, even after raising wages, the facility has had trouble recruiting staff.
"When Humboldt State (University) shut their nursing program down, it really hurt our area," he said in a phone interview. "We need more nurses, more CNAs, more clinical lab scientists, just more certified people in the healthcare industry."
Rockport spent $5 million last year to bring in staff from outside the region, a practice it says is "not financially sustainabile."
In its press release, the company said it "remain[s] hopeful that [it]can avoid these measures."
When the relocation process begins, the company says it will "reach out to individual patients and their families to ensure every displaced patient is placed in a California skilled nursing facility."
"The staff employed by these facilities work incredibly hard every day," the release continues. "Each and every one of them would be offered employment with one of the buildings to which Rockport provides professional services at Granada or Fortuna. This is a painful possibility for all involved. We will continue to meet with any and all partners to develop alternative resolutions as we simultaneously prepare for this scenario."
What those alternative resolutions may be — a community buy in, a nonprofit, a financial bailout — is unclear.
Humboldt County First District Supervisor Rex Bohn has been in meetings with the Rockport and other county officials to discuss the potential closures.
"The operators have assured me that they will work with families and DHHS to place all individuals, if not locally, to facilities in California, said Bohn in an email. "If this issue passes they will be 1st to move back when/if facilities reopen. All remaining staff have employment opportunities at the still open local facilities."
Fourth District Supervisor Virginia Bass, also reached by email, added that she was "disappointed" that the company appeared to have settled on closing three facilities.
"Conversations are ongoing and that the number of closures could change," she said.
Editor's Note
: This article originally misstated the amount of nursing hours per patient per day required by the state of California. The correct amount is 3.2 hours, not 3.8. It has also been updated to include quotes from Bohn and Bass.