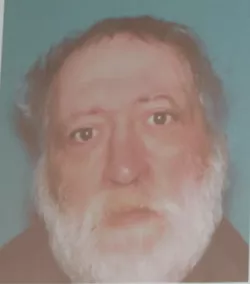 File
Fulton
The Humboldt County Sheriff's Office has identified the officers who shot and killed David Allan Fulton after a tense
Aug. 18 standoff
in McKinleyville as being from Mendocino County.
During the 17-hour standoff, the Mendocino County Sheriff's Office sent an armored personnel carrier and its SWAT team north to aid its neighboring agency. It appears the Mendocino SWAT team was the one that responded when Fulton allegedly came out of his second-story apartment shooting at about 2 a.m. on Aug. 18.
The Humboldt County Sheriff's Office on Friday identified Humboldt County deputy James Mowrey as the officer who exchanged gunfire with Fulton shortly after 9 a.m. on Aug. 17. The office identified those involved with the fatal encounter 17 hours later as Lt. Jason Caudillo, Sgt. Joseph Comer, deputy Ze Manuel Lima and deputy Corey Bender, all from the Mendocino County Sheriff's Office, and Ukiah police officer Jason Chapman.
No officers were injured during the standoff, which remains under investigation by Humboldt County's multi-agency Critical Incident Response Team.
See the full press release from the sheriff's office copied below:
The Critical Incident Response Team (CIRT) investigation continues for the August 18th officer involved shooting that took place at 1770 Sutter Rd in McKinleyville.
The investigation has determined the deputies who fired at the armed suspect, David Allan Fulton, were Humboldt County Deputy Sheriff James Mowrey, Mendocino County Sheriff's Office (MCSO) Lieutenant Jason Caudillo, MCSO Sergeant Joseph Comer, MCSO Deputy Sheriff Ze Manuel Lima, MCSO Deputy Corey Bender, and Ukiah Police Officer Jason Chapman. HCSO Deputy James Mowrey was the initial deputy to engage with the armed suspect just past 9 a.m. The five remaining peace officers were involved at the conclusion of the incident.
No officers were physically injured during the incident. The CIRT investigation is ongoing and further information will be released to the public as it comes available.
At the conclusion of the CIRT investigation, it will submitted to District Attorney Maggie Fleming for review.

Previous (8/24/16):
An autopsy was performed on decedent David Fulton. The autopsy revealed the cause of death to be multiple gunshot wounds. Toxicology reports should be returned in approximately one month.
Previous (8/18/16):
On Wednesday, August 17, 2016 at about 9:00 a.m. Humboldt County Deputy Sheriffs responded to the Redwood Creek Apartment Complex on Sutter Rd in McKinleyville for reports of shots fired. It was reported to law enforcement that 58 year old David Alan Fulton had fired shots into the area of the apartment manager's office. Shortly after Deputies arrived on scene and set a perimeter around the complex, Fulton fired shots at Deputies with a long gun. Deputies returned fire and Fulton retreated into his apartment.
CHP, APD, EPD, Cal Fire, State Parks, and Fish and Game responded to the scene and assisted Sheriffs Deputies. The Sheriff's Office SWAT team was deployed and the Mendocino County SWAT team also responded with their BearCat rescue vehicle to assist. Residents in the area were advised via mass notification system, to shelter in place.
It was later confirmed that a female was with Fulton in his apartment. She has been identified as his long-time girlfriend. She voluntarily stayed with Fulton claiming she had a calming effect on him. Deputies requested the female leave the apartment but she refused and chose to stay with Fulton. Sheriff's Office Crisis Negotiation Team responded and attempted to negotiate with Fulton throughout the night. Fulton refused to cooperate with negotiators.
Deputies continued to attempt phone contact with Fulton without success. At about 1:10 a.m. the female in Fulton's apartment shouted to law enforcement that she and Fulton were not coming out. Phone contact continued to be unsuccessful. At about 1:20 a.m. the female voluntarily exited the residence, shortly thereafter Fulton fired more shots at law enforcement from inside the apartment, at which point Deputies briefly returned fire. Deputies prepared to use chemical agents and soon noticed black smoke coming from Fulton's apartment. Moments later Deputies saw flames inside the apartment. Fulton exited the apartment and fired several shots at Deputies, at which point Deputies again returned fire.
At 2:05 a.m. Deputies moved in and located Fulton. Fulton was not moving and was pronounced deceased by on scene medical personnel. Fire personnel responded to the back of the apartment and suppressed the fire. No members of law enforcement or uninvolved citizens were injured during this incident.
Anyone with information for the Sheriff's Office regarding this case or related criminal activity is encouraged to call the Sheriff's Office at 707-445-7251 or the Sheriff's Office Crime Tip line at 707-268-2539.