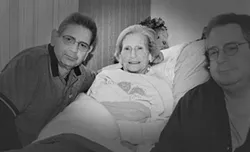 Courtesy of Sharon Crossland
From left to right, Steven, Jeannie and Sherman Newstrom at Nina's Care Home.
The California Attorney General's Office has confirmed that on Tuesday, Aug. 30 Judge Timothy Cissna dismissed charges of elder abuse against William Clawson, a registered nurse, in a preliminary hearing. Clawson's co-defendant, Mia Bressler, pled guilty to a misdemeanor charge the day prior and was sentenced to three years of probation and 200 hours of community service.
According to a representative from the Area 1 Agency on Aging who attended the trial, Cissna said there was "not sufficient evidence" to hold Clawson accountable for the
severe neglect of 83-year-old Jeannie Newstrom
, who was admitted to the hospital on May 23, 2013, with extreme bedsores, unchanged adult diapers and a gangrenous toe, the dressing for which had not been changed in almost a month. Newstrom died in hospice care two weeks later. In a 10-page accusation by the Board of Nursing calling for the revocation of his license, Clawson is accused of "gross negligence" and "incompetence." On May 11, 2013, the nurse had signed off on paperwork saying that Newstrom was fit to transfer to another facility, and allegedly did not address the neglect that appears to have occurred under Bressler's care.
In the
Journal'
s coverage of Jeannie Newstrom's death, it was revealed that Humboldt County has one of the highest rates of substantiated complaints in residential care homes such as the one where Newstrom was housed, but one of the lowest rates of citations by Community Care Licensing, the department responsible for oversight of the facilities. Agents with Community Care Licensing visited Nina's, the residential care home in which Newstrom lived, several times before it was closed in 2013, but also failed to note or report signs of neglect.
We have sent an inquiry to the Board of Nursing about whether Clawson's license will be revoked and will update when they contact us.