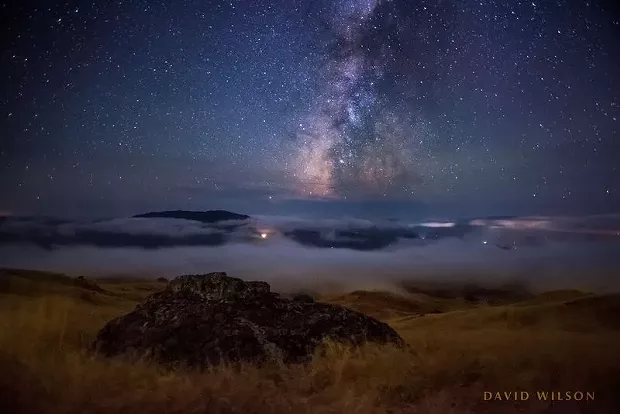 David Wilson
Like this picture? Check out the video below.
Work week got you down? Or maybe it's Humboldt's seemingly endless feed of grisly news? Whatever it is that's conspiring against you this Wednesday, push it aside and take a moment to appreciate this beautiful place we call home. Heck, thanks to Eureka's David Wilson, you won't even have to get out of your chair.
Wilson spent much of a recent night perched on a ridge line between the south and north forks of the Eel River with his camera.
"My hope was to create a time lapse that successfully spanned the sunset-to-night transition and caught the star-lit valley filling with fog as the Milky Way and star field slid across the sky," he wrote in an email to the
Journal
. "I started shooting still photographs for this time lapse at 7:24 p.m. on Sept. 2, 2016, to catch the sunlight disappearing. It wasn't until about 9:30 p.m. that the fog first came into the view far down the valley. It rolled up both river valleys simultaneously. … It flowed like fluid, billowing, advancing and retreating as it filled the valleys and washed over the hills. It spotted like a wildfire, with puffs appearing here and there ahead of it. The Milky Way slid across the frame above."
David Wilson
Wilson's perch.
Wilson kept shooting at regular intervals until the fog overtook him and he could no longer keep his camera dry, snapping his last frame at 2:34 a.m.
Check out the
video
below, which is scored by Wilson's son, Jarren, a marine biology major at Humboldt State University who has studied music since his days at Freshwater School. The elder Wilson is a Humboldt County native and HSU alum, who teaches Photoshop and digital media at College of the Redwoods. He's obviously also a photographer with a thing for time lapse videos, as his
YouTube page
will attest.