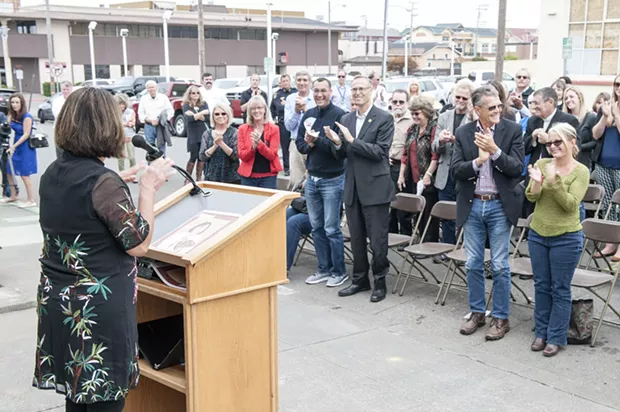 Mark McKenna
Betty Chinn gets a standing ovation at the grand opening of her new family shelter on Friday.
A host of elected officials and community members turned out Friday to catch a first glimpse of Betty Chinn's new family shelter, which will be up and running in the next couple of weeks.
"I'm here as your congressman, but I'm also here like all of you, as a fan of Betty Chinn," said North Coast Congressman Jared Huffman, adding that the breadth of those in attendance speaks to Chinn's ability to bring people together and a communitywide recognition that Chinn "understands the needs of the most vulnerable."
Huffman was one of a parade of officials to take the podium Friday in front of the newly renovated building, which will provide transitional housing for 14 families and convalescence care for 10 people recently discharged from the hospital. Mayor Frank Jager said Eureka is blessed to have Chinn's "tireless" advocacy on behalf of homeless people, noting that the city doesn't have any social service funding to build housing on its own. "The city supports her because we know Betty will do the right thing," Jager said.
Humboldt County 4th District Supervisor and former Eureka Mayor Virginia Bass said Chinn has an "uncanny ability to somehow remove the word 'no' from people's vocabulary," marveling at how Chinn is able to bring people together to support her cause. But Bass also recognized that wasn't always the case, making passing reference to a period in the not-too-distant past when Chinn was blamed by local business owners and city leaders for "enabling" the local homeless population.
"I look at that now as a very dark time in our recent history," Bass said.
First District Supervisor Rex Bohn expounded upon that sentiment, noting that some to this day maintain that if local homeless services were cut, these people would leave the area. Bohn disputed that notion. "If they're here," he said, "it's our moral obligation to help them."
When Chinn took to the podium, she attempted to deflect the praise that had been directed her way over the course of about 45 minutes from a half dozen speakers. "What can I say," she asked. "Look at that beautiful building."
"You made that happen, not me," she told the crowd, noting all the donated funds, materials and labor that enabled the project.
For more on Chinn and the new shelter, see last week's
Journal
cover story
here
. And for those wanting to help, find out ways to get involved by visiting
www.bettychinn.org
and see the following wish list was distributed to those in attendance Friday.
Betty Kwan Chinn Homeless Foundation Wish List

Bunk bed frames (twin sized)
Twin mattresses
60 storage bins (soft plastic Hefty storage bins)
Sheets and comforters (twin sized)
Trash cans and trash bags (30 gallon)
Door mats
Bulletin and dry erase boards
Housekeeping items: toilet paper, mops, brooms, mop buckets, dust pans, etc.
Bus tickets (city and county)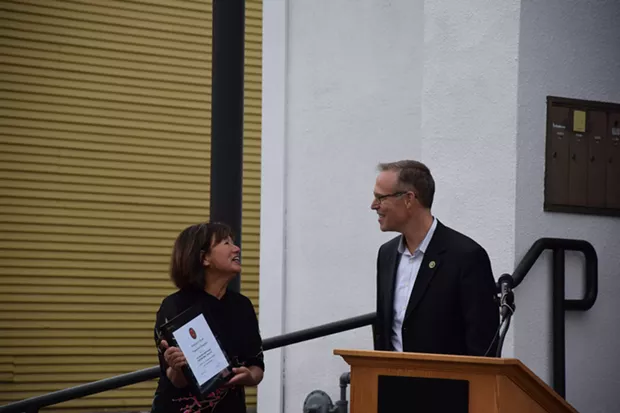 Thadeus Greenson
North Coast Congressman Jared Huffman presents Chinn with a plaque of congressional recognition.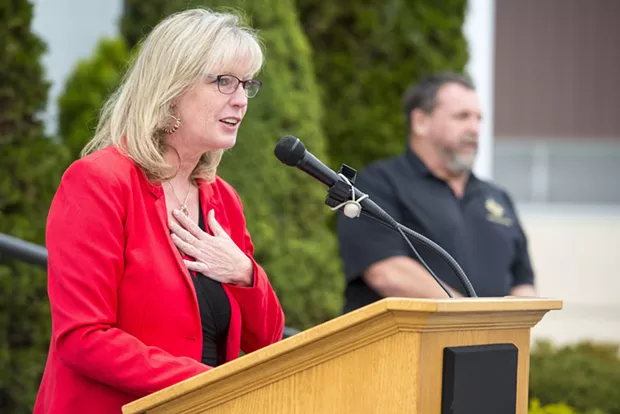 Mark McKenna
Humboldt County 4th District Supervisor Virginia Bass refers to challenges Chinn's outreach faced from local business owners and the city of Eureka as a "dark time in our recent history."
Thadeus Greenson
A bunk bed sits in the newly remodeled family shelter, which is decorated with donated art and furniture.
Thadeus Greenson
Chinn with her grandson, Benjamin.