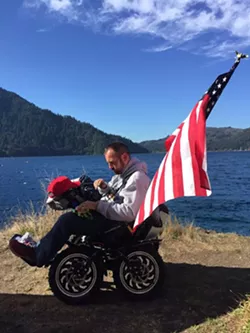 Facebook
J.C. Cook on the road.
Two veterans are riding 2,200 miles on specialized four-wheel drive mobility chairs, from the Canadian border to Mexico, then back to Fresno, to bring attention to the 22 veterans said t0 commit suicide in the United States every day. (The
most recent analysis
from the Dept. of Veteran's Affairs actually puts the number at 20.) John "J.C." Cook, a 2001 Fortuna High School graduate, and Sgt. Justin Bond, founder of Our Heroes' Dreams, will be rolling into Humboldt County this Friday, along with their helper dogs Ivy and Boomer. Master Sergeant Ernest Serrato, president of the organization, is providing support to the team by driving alongside them in a truck with supplies.
"We're calling it Operation Battlefield," said Cook, who called us from Coos Bay. "I understand what a lot of the guys are going through."
Cook, who had his leg amputated below the knee after a routine ankle surgery led to a severe infection, struggled in the past with addiction and suicidal thoughts. Because he did not see active duty — he was an aircraft mechanic in the Navy — he had trouble reaching out for the help he thought other veterans "deserved" more.
"I was a shell of a person," he said. "But then I found these other veterans."
The support of other veterans and the San Francisco Veteran's Administration, as well as his wife, led Cook to recovery. He has been clean for more than three years and now seeks to connect fellow veterans with resources. The "zoom chairs" he and Bond are using, for example, are available to veterans injured in the
Facebook
Cook and Long enroute to Humboldt County.
line of duty for free, thanks to a nonprofit called
The Independence Fund
. The model Cook uses can go up to 12 miles per hour. Although that makes for a slow and steady journey, Cook said he appreciates its offroad capabilities, which make it possible for him to go to the beach and appreciate nature.
Bond, who lost his legs after being shot through the knees in the Battle of Fallujah, has done a number of events to raise awareness and money for veterans, including once riding a segway from Monterey to Jacksonville, Florida.
"Operation Battlefield" hopes to raise enough money to purchase 55 acres of land in Monterey for permanent use as a veteran's ranch.
The group currently operates a "Healing Safari," where veterans in crisis can receive counseling and take part in family-oriented activities. Cook says it will be great to have a "safe place" to bring veterans who call Our Heroes' Dreams hotline.
In the meantime, Cook is looking forward to connecting with his Humboldt County roots and introducing Bond and the rest of the support team to some of his favorite places. He says he definitely plans to stop by No Brand Burger Stand and the Apple Harvest Festival. They will stay with Cook's family in Carlotta, to save money.
Cook says the scenery has been great so far, but the best thing about the trip has been meeting people who donated time, money and support to Operation Battlefield. An American Legion group provided a motorcycle escort for the veterans from their starting point on Sept. 11. Other people honk and wave, pull over and hand the men money.
"I've met some really great Americans," Cook said. "It's really good to see. Especially with everything that's going on in our country right now. There are good people in the world. We're finding them."
Facebook
Cook and his loyal service dog, Ivy.