Anthony Westkamper
A female against a 1-centimeter/1-millimeter grid.
I spend a lot of my outdoor time looking for and at bugs. Especially ones that are dramatic looking or interesting to photograph, so when I noted a medium sized spider on the front of the
Carlotta post office
, I automatically got closer, tilted my head to use the reading portion of my bifocals and was surprised to see a tiny red hourglass on the creature's abdomen.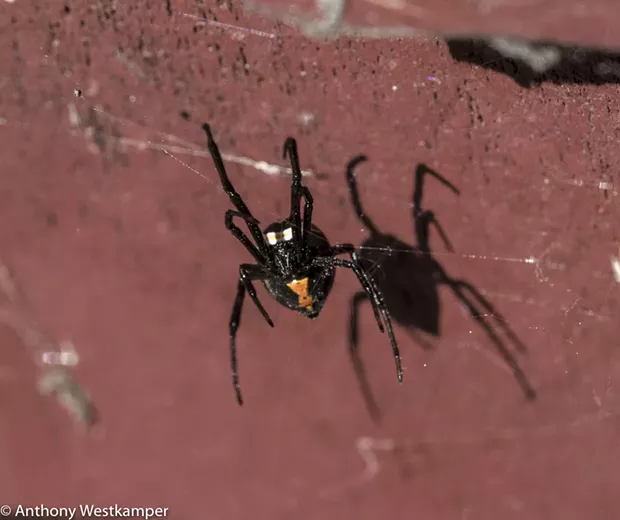 Anthony Westkamper
A female showing a ventral view of the red hourglass. The white marks are on the front of her abdomen; her head (the business end) is tiny and below that.
There are several other members of the large comb-footed spider family,
theridiidae
, which look similar in shape and size to the black widow, but only family
latrodectus
has the red hourglass on the underside of their abdomens. It is one of the best diagnostic features. If the red hourglass is there, it is dangerous to humans.
Anthony Westkamper
A female's hind foot showing the "comb foot," which is used to spread webbing when wrapping prey. Note the teensy hooks with which they climb on the scaffold of their webs.
Figures vary, but it seems there are about 2,000 bites reported in the U.S. per year and very few fatalities. The symptoms, I understand, are particularly unpleasant. I have only known one person who was bitten. Her health was not particularly robust and she spent several days in the hospital. She reported that it was like having one horrendous body cramp that just didn't quit for days.
Anthony Westkamper
The male of the species.
The spider gets its ominous name from the female's habit of eating the male after mating. Recent research indicates that our local species
Latrodectus hesperus
rarely does this, and the cannibalism may be a consequence of observing them in the laboratory where the male has no escape.
An article in
Scientific American
indicated they were toxic if consumed, however several species, including chickens and alligator lizards, seemed to eat them with no ill effects. The extremely long-legged cellar spiders are known to eat young widows, as well.
Anthony Westkamper
Female dorsal view (the white markings may be shed during next molt).
Widow spiders are nearly blind and are creatures of their web. If you see one walking on the ground, it is either seeking to get back to its web or looking for a place to make a new one. They spin a deceptively "messy" three dimensional web which may give them some protection from spider-hunting wasps. They are usually secretive, which leads to a common problem of people getting bit on the rump or genitals in outdoor privies. You sit down, make vibrations in the web, and she responds by rushing to potential prey and biting.