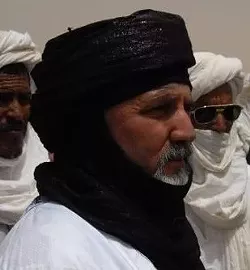 Redwood Coast School of Missions
Jeff Woodke.
2nd UPDATE:
In a statement sent to the
Journal
, North Coast Congressman Jared Huffman indicated he's working with the State Department to facilitate kidnaped missionary Jeff Woodke's safe return home.
"My thoughts are with Jeff Woodke and his loved ones during this extremely trying time," Huffman said of the 55-year-old McKinlyville man who was abducted in West Africa on Friday night. "It is devastating to see my constituent who has spent his life dedicated to humanitarian service be victimized in this way. I am working with State Department officials and will do everything in my power to ensure Jeff's swift and safe return home."
1st UPDATE:
Reuters
is
reporting
that Niger Interior Minister Mohamed Bazoum has confirmed the identity of the American kidnapped last night as 55-year-old Jeffery Woodke of McKinleyville.
Additionally, Bazoum issued a statement offering some additional detail about the attack, including that an armed man on a motorcycle arrived at Woodke's home in Abalak and opened fire on an armed guard before a Toyota truck returned to abduct Woodke.
"These criminals are now heading towards Mali. Our forces are on their trial," Bazoum says in the statement, according to
Reuters
.
Read the full report
here
.
The
New York Times
also now has a report up, which can be found
here
.
PREVIOUSLY:
Multiple news reports are identifying the Christian American aid worker kidnapped by armed gunmen in Niger yesterday as a 55-year-old Mckinleyville man.
Britain's
Daily Mail
and
CBN News
, a Christian online reporting outlet, have both identified the man as Jeff Woodke, a Humboldt State University alum who works for the Redwood Coast School of Missions run through Arcata First Baptist Church. According to the Redwood Coast School of Missions
website
, Woodke has "committed the past 25 years of his life to a ministry he founded in Niger amongst a number of unreached people groups."
According to multiple accounts, gunmen stormed the home of a longtime American aid worker in the the West African city of Abalak, killed a bodyguard and a local police officer in a shootout and then fled with a kidnapped American toward Mali. CNN
reported
that witnesses say the worker was forced to strip down to his underwear before being put into a 4x4 vehicle, noting that "such measures are often taken by kidnappers to avoid hostages being tracked."
CNN further reported that "authorities are taking all necessary measures to locate the American and his abductors, including imposing a heavy military presence between Abalak and the border with Mali, said the source, who was not authorized to speak publicly."
Radio France Internationale
reported the victim had worked in the area since the 1990s with
Youth with a Mission
, which bills itself as a "global movement of Christians … dedicated to serving Jesus throughout the world." The group reports that it works in more than 1,100 locations spread across 180 countries — including Abalak, Niger — with a staff of more than 18,000.
It's unclear who is responsible for the kidnapping and the U.S. State Department has so far said publicly only that it is aware of reports of a kidnapping of a U.S. citizen in Niger. Attempts to reach North Coast Congressman Jared Huffman and Arcata First Baptist Church were not immediately successful this morning.
A short bio on Redwood Coast School of Missions indicates missionary work in Niger has been a huge part of his life's work.
"Jeff's passion in providing humanitarian aid to those who are amongst the poorest in the world, coupled with his desire to see God's kingdom advanced in a largely Muslim world has played a large part in the life and ministry of (Arcata First Baptist Church)," the site says.
On her Facebook page, Christian author Cheryl Ford indicated she was a 15-year member of the same Humboldt County church as Woodke and that her family went to Niger under his leadership a couple of times.
"One had to marvel at the man," she wrote. "My world kind of stopped yesterday over this news."
Ford also quoted Tracy Rickstrew, who worked at Arcata First Baptist Church and whom Ford identifies as a "former Niger team missionary," as follows: "Our friend and director when we worked in Niger, Africa was kidnapped yesterday. Please pray for him and his family. I know his heart would not be for his own life, but for God's glory in all of this. He is tough and his faith is resolute and we know that there is nowhere on earth that he can go where the Spirit of God is not already with him."
Back in June of 2014, Woodke was a guest speaker at the Arcata First Baptist Church. Watch the video below: