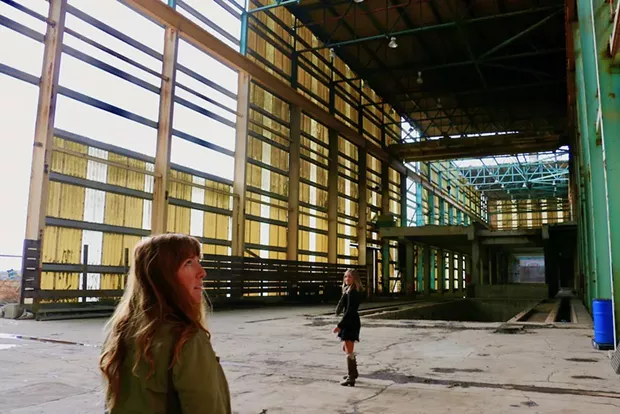 Jennifer Savage
Jasmin Segura, with Humboldt Baykeeper, and Delia Bense Kang with Surfrider tour Marine Terminal II.
The buildings stand mostly empty and the work is far from done, but mood inside the Redwood Marine Terminal II last Friday was jubilant nonetheless. At long last, the Humboldt Bay Harbor, Recreation and Conservation District threw a grand opening party for the out-of-service pulp mill
it bought for $1 back in August of 2013
. After successfully
saving Humboldt Bay from potentially disastrous toxic sludge
, the district has continued to rehabilitate the site into what is now officially the
National Marine Research and Innovation Park
, a multi-use facility designed to house both research and commercial opportunities in aquaculture, biomass conversion and renewable energy.
State Assemblyman Jim Wood, on hand for the festivities, called the achievement "remarkable" and praised the efforts of both the pulp mill and the U.S. Environmental Protection Agency. State Sen. Mike McGuire admired the hard work of all involved. Humboldt County Supervisor Virginia Bass recalled her childhood, during which the mill's stink was known as "the smell of money."
Jennifer Savage
Virginia Bass.
As an adult, Bass was employed to do public relations at the mill during its years under Evergreen Pulp, a task she confessed to being "ill-suited" for, in part, she joked, because she had to work with fellow Supervisor Rex Bohn, a man "hard to put a lid on." Despite that, the "little space of earth" continued to be a prominent part of her life — she even recounted driving out to sit in the abandoned parking lot years later, sad to see such a "vibrant part" of the bay lying fallow. "How can we help?" she asked herself.
Opportunity arrived through the district's purchasing of the site, which brought federal, state and local agencies, community partners, nonprofit organizations, the county and the city of Eureka into the "monumental" project, she said. And now, Bass finished, she's confident "the Harbor District is up for the challenge."
One of the most moving speeches came from Harbor Commissioner Richard Marks, who spent 30 years working at the pulp mill, "almost [all] in this building," he said. He referenced the "ghosts of workers past" and noted that despite his longtime pride in the workers, "I was never proud of our bad environmental record." Marks relayed an anecdote about bringing in a copy of the Northcoast Environmental Center's EcoNews, telling fellow employees that they needed to do things right. This "new day forward" pleased him, he said, with the promise of "new jobs, clean jobs."
Continuing the speechifying was Harbor Commissioner Mike Wilson (who takes a seat as a Humboldt County supervisor in January. "I don't like the term 'revitalization'," he said, preferring to call the new chapter "vitalization." He urged the district — and the community — to be "future-focused … Moving backward is so much more difficult." To that beginning, Wilson noted, success of the NMRIP depends on an interim zoning change and update to Humboldt's
Local Coastal Plan
.
Harbor District CEO Jack Crider wrapped up the event with a story of visiting the pulp mill site four years prior. "I did this crazy thing," he said, "crawled around on top of all the tanks and buildings. I should have died that day." Instead he took 500 or so photos to the Harbor Commission and showed them the disrepair — and danger — of the sludge tanks.
Afterward, Crider said, "Commissioner [Greg] Dale said, 'Thanks a lot, Jack. Now we have to do something.'" That something turned out to solve a lot of issues, Crider continued, from removing the toxic sludge from failing tanks to providing dock access and future opportunities. This is his third experience converting a contaminated site, he said, and each time has meant putting his staff through significant challenges. This one, Crider finished, "was the biggest hurdle I've ever put anyone through."
Jennifer Savage
Byron Duty of Pacific Flake.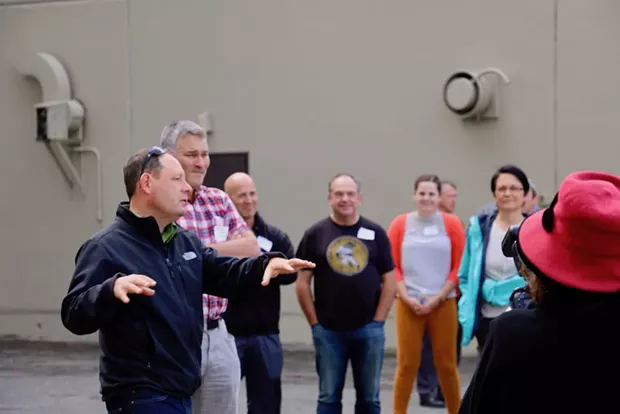 Jennifer Savage
Harbor Commissioner Mike Wilson (left) talks to the crowd.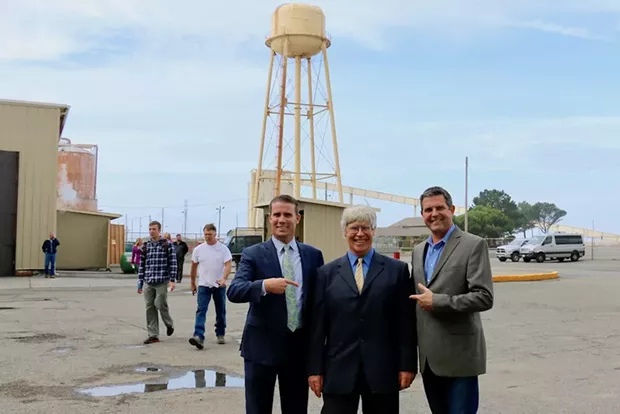 Jennifer Savage
North Coast state Sen. Mike McGuire (left) and Assemblyman Jim Wood (right) with Harbor Commissioner Pat Higgins.
Jennifer Savage
John Driscoll, the field representative for North Coast Congressman Jared Huffman, addresses the crowd.