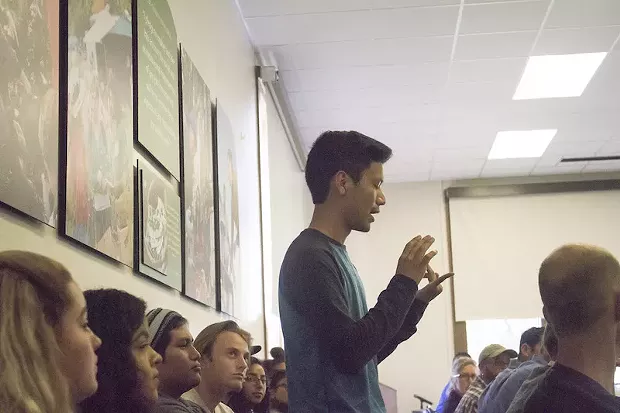 Javier Rojas
Diego Morales speaks out at the university senate meeting discussing marginalization at Eureka High School.
The words that ignited anger and displeasure among students and staff at Humboldt State University came from their president. "Racism is not the norm on our campus," Lisa Rossbacher wrote in an email two weeks ago concerning race issues on campus. But according to students, HSU is anything but the norm.
The University Senate held its bi-weekly meeting Tuesday and saw the usually sparse crowd replaced with an energetic group of students and staff ready to get their two cents in with Rossbacher.
The Goodwin Forum didn't have an empty seat and floor space was filled with student backpacks as a tense audience crowded the room to capacity before the meeting could start. But from the moment it was announced Rossbacher wouldn't be in attendance, it drew displeasure from the crowd.
Javier Rojas
Students and staff filled the Goodwin Forum for the Humboldt State University Senate on Thursday.
A student Facebook group #POCNormHSU, which has drawn more than 500 likes since it opened last week, organized the large turnout and has been a platform for students of color to share stories of racism they have faced attending HSU and living in Humboldt County.
The senate allowed an open space for students and staff to talk and each were given three minutes to say whatever they pleased. Ethnic studies professor Maria Corral-Ribordy read a letter directed to the President that discussed issues she has noticed as an instructor working in the Critical Race and Gender Studies (CRGS) Department.
"I want to acknowledge, Why is the university not doing more for students of color?" Corral-Ribordy said. "The president knows how students feel about the email and I want to see some changes made."
Corral-Ribordy's letter set the tone for the meeting as students followed by sharing their own experiences of racism on campus and in the community. With stories of prejudiced teachers and racist encounters in the university library, students let the majority white senate know what they perceive to be the norm on campus.
"I'm happy to say I'm leaving [Humboldt County] soon," Graciela Chipres, a former student senate representative, said. "I have many stories of personal struggle mainly to do with the environment here."
Chipres held back tears as she spoke about her encounters with racism at HSU. She stated that over the five years she has lived here she has encountered many forms of racism, even run-ins with neo-Nazis.
Yet according to Diego Morales, HSU isn't the only place in Humboldt County where students don't feel they belong. Morales is a tutor at Eureka High School and said some Latino students there feel marginalized compared to others.
"At times, I feel like I'm their only resource and ask myself if this can really be," Morales said.
CRGS professor Ramona Bell talked about the disconnect between faculty and students of color.
"Where can students go for help, honestly?" Bell asked the senate. "It shouldn't be this hard to find some resources on campus, but it's the sad truth."
As the senate meeting dwindled down to its last speaker, attention turned to senate member Erik Eschker, who students claimed rolled his eyes and didn't acknowledge the severity of the discussion at hand. The economics professor was derided as he tried to respond, saying something about having some personal problems he was dealing with. Students pointed out that such instances are why progress is hard at HSU when the problem can't even be acknowledged.
Various senate members agreed with some of the audience's opinions, including the need to address some changes within the university and support students of color.
Senate chair Julie Alderson said the meeting's huge response will prompt another forum concerning racial dialogue on campus in the near future. Alderson added that the next meeting will hopefully have Rossbacher in attendance.