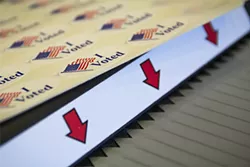 Manuel J. Orbegozo
"I Voted" stickers.
If you haven't received a sample ballot of the statewide propositions yet, a representative in the California Secretary of State's Office says not to worry — it's in the mail.
"The mailing of the Voter Information Guide concluded over the weekend, so voters should keep an eye on their mailboxes this week," press secretary Sam Mahood wrote in an email to the
Journal
.
The 223-page guide is available
online
in 10 languages, he added.
There are 17 statewide ballot measures before voters on the Nov. 8 ballot, ranging from regulations on ammunition to legalizing the recreational use of marijuana to repealing the death penalty.
For those looking to get a jump start on researching the long list of initiatives, Mahood said the office recently released a "
Quick Guide to Props
" link on its website, which "provides voters a helpful list of the top ten campaign contributions, funding totals for each and every of the 17 statewide propositions, as well as brief nonpartisan analysis."
The campaign finance elements, he noted, "are dynamic and will be updated daily."
Not a registered voter? The deadline to become one in time for the November election is Oct. 24. For more information, visit the Humboldt County Registrar of Voters
website
.