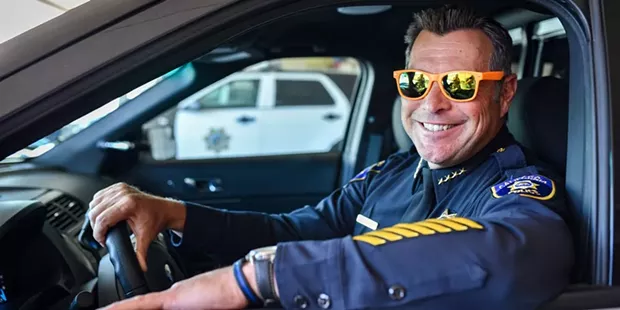 File photo
Mills in cooler days.
Eureka Police Chief Andrew Mills has a PSA for would-be wave-watchers: "When they say don't go out on the jetty, don't go out on the jetty."
Mills was driving along the north jetty with his wife last Saturday when he decided to walk out on the jetty and take pictures of the large waves sweeping in due to an upper-level storm system. The National Weather Advisory had warned of 19 to 22 foot waves over the weekend, and advised people to "stay safe ... by staying farther back from the surf and off of rocks and jetties." It's a frequent warning on the North Coast, and one that sometimes goes unheeded to deadly
consequence
.
On Facebook, Mills quipped about his foolhardiness, "Big waves 22'+ they say. Stay off the jetty they say. I am smarter, faster and stronger than them, I say. My cellphone now sits at the bottom of the ocean along with the skin from my arms and knees. If you are trying to call or text me...sorry. Call tomorrow. For now the laughing squid who has my phone may answer."
In a phone interview today, Mills said that as an experienced surfer, he thought, like many, that he could judge the speed and trajectory of the waves and stay out of their reach, but in just a short time, "the waves got gigantic."
In seconds one crashed down on top of him, throwing him onto the cement.
"It treated me like a little tiny rag doll," he told the
Journal,
comparing the impact of being pushed against the rocks to a cheesegrater.
"It's cement, wood, cement wood, like a cheesegrater. So, I thought, I'm going to get on top of the wall. That was a mistake. It pushed me off into the rocks. I held on my with my upper body and the next one came in and took me out."
Mills said a smaller person would definitely have been swept out to sea and killed. He managed to make it safely back onto the beach and to the car where his wife was waiting, although his phone was lost and a favorite shirt bloodied. He called the experience "humbling" and urges others to learn from his experience.
"The real thing is, compared to the power of nature, we are insignificant," he said. "Lots of lessons to be learned for Chief Mills."