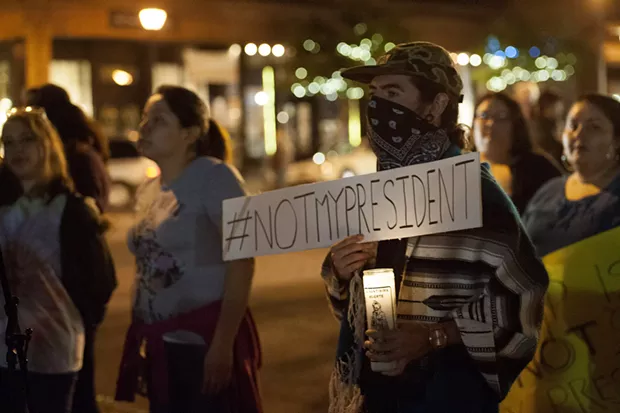 Ernesto Najera holds a sign at Thursday night's protest.
A couple hundred people took to the streets of Eureka on Thursday night to decry the election of Donald J. Trump in a protest Police Capt. Steve Watson called "passionate but peaceful."
Protesters gathered at the Old Town Gazebo, marched up to the Humboldt County Courthouse and back over the course of a couple of hours. Watson said that at one point protesters flooded Fifth Street, and there were a couple of near misses with passing vehicles. A total of about seven officers were on hand to help control traffic and make sure things didn't get out of hand, Watson said, adding that there were ultimately no reports of vandalism or assaults. At one point, a few Trump supporters arrived in Old Town for a counter protest, Watson said, which escalated tensions briefly but ultimately led to dialogue between the two groups.
"This is democracy in action and we'll do everything we can — always — to protect people's constitutional rights to assemble and speak their piece," Watson said. "The one thing that we always ask is that they keep it peaceful. It's a passionate issue on both sides. The country is obviously divided and people feel deeply. But if we truly respect the democratic process, there has to be some attempt for unity."
19 slides
Another protest is planned this afternoon in Arcata, where people plan to gather at Humboldt State University and march to the plaza. Organizers have titled the event "Humboldt United: A Peaceful March Against Donald Trump" and are imploring participants to honor that intent. "Feel free to be angry, we all are, but PLEASE remain non-violent," the Facebook page for the event reads. "This MUST remain a peaceful event. We must create a safe space for all to come together and have their voices heard. Please do not contribute to the hate."
Across the North Coast — and the nation — citizens, elected officials and institutions are working to come to grips with Trump's upset victory at the polls and figuring out how to move forward.
Humboldt State University President Lisa Rossbacher sent out a campuswide email Wednesday afternoon decrying the tone of the presidential election. "We have just experienced a presidential campaign that was very different from others before it," she wrote. "The rhetoric was sharper and more divisive, particularly around issues of race, gender, identity and immigration status. The personal attacks went far beyond what is acceptable. ... As I have spoken with students, faculty and staff on campus today, I have felt the frustration, grief and anger that many of you are experiencing. The strength of these reactions is greater than I can recall following any previous election."
Rossbacher closes her letter by reminding students of a litany of services available to them on campus — including counseling — and says the university's primary focus is ensuring students feel safe.
North Coast Congressman Jared Huffman sent a letter to his supporters this week, expressing deep disappointment and dismay at Tuesday's results. In the letter, Huffman echoes the remarks of Hillary Clinton, saying "we owe President-elect Trump an open mind and a chance to lead." Huffman pledges to support Trump in efforts to work for the common good and unite the country.
"But our eyes must be wide open as we enter this new and unexpected chapter in American history," Huffman continues. "Mr. Trump campaigned as a reckless demagogue pushing a divisive and backward agenda. If, as president, he continues down the path of authoritarianism, misogyny, xenophobia, racism, mass deportations, religious and ideological tests for immigrants, and climate change denial, then we must work together to resist him. Giving up is not an option. ... I'll put aside differences to work with President-elect Trump to the extent that he supports policies that benefit our economy and working families, such as investing in infrastructure. But to the extent he tries to advance the darker, more divisive aspects of the agenda he championed during the campaign, I will oppose him mightily."
In the letter, Huffman also details his conversation with his daughter on election night. "I tried to console my tearful 16-year-old daughter by explaining that our country will continue moving forward, despite having a man like Donald Trump as our president," Huffman wrote. "Our country is a lot bigger than one man, and we've come through other periods of darkness — slavery, the Civil War, World Wars I and II, and the internment of Japanese-Americans, segregation and McCarthyism, to name a few. Our progress toward a more perfect union has always been fitful, with setbacks that seemed permanent at the time. But we always kept moving forward."
Attempts to reach officials with the local Republican party were not immediately successful.
See the full letters from Huffman and Rossbacher copied below, as well as one from California State University Chancellor Timothy White.
From Huffman:
Ever since the polls closed last night, I've been struggling with what to say to you about this election, what it means for our country, and where we're heading. I'm fortunate to have written many victory messages to supporters over the years. Frankly, every previous time it was easy. This time it is not.
Let me begin by thanking all of you for your steadfast support which resulted in my reelection last night. We won about 77% of the vote – an impressive margin of victory that any member of Congress would be thrilled to have, and I'm very grateful! I'll never take for granted the trust and confidence you have placed in me, and I'll do my best to never let you down.
But like many of you, I am also deeply disappointed and dismayed by the broader results of our national election. Somehow, despite the high stakes and seemingly clear choice in our Presidential election, Democratic voters in many parts of the country chose not to participate, while Donald Trump's voters in rural areas turned out in droves, many of them animated by economic, racial, and cultural resentment. That was the difference.
So what does the Trump victory mean? For starters, it means we will soon peacefully transfer power to our next President, as we have always done. As Hillary Clinton said today, we owe President-elect Trump an open mind and a chance to lead. If he chooses to be a President that works for the common good and brings our country together, I'll certainly work with him.
But our eyes must be wide open as we enter this new and unexpected chapter in American history. Mr. Trump campaigned as a reckless demagogue pushing a divisive and backward agenda. If, as President, he continues down the path of authoritarianism, misogyny, xenophobia, racism, mass deportations, religious and ideological tests for immigrants, and climate change denial, then we must work together to resist him. Giving up is not an option.
As your Congressman, I promise to fight any form of discrimination against vulnerable populations, including Muslims and refugees.
I will push back against the scapegoating of immigrants, and fight for fair and humane immigration policies that keep families together.
I will oppose extreme or reckless foreign policy moves, including the use of military force in conflicts where diplomatic alternatives are available.
And because the health of our planet is at stake, I will fight harder than ever for our environment, our climate, and a clean energy future. Whatever caused so many intelligent people to vote for this man, I'm sure it was not a desire to reverse President Obama's legacy of environmental and climate leadership, or a desire to hand over our energy and environmental policies to shills from the fossil fuel industry. We can't let that happen.
I had hoped to enter the next Congress as part of a new Democratic majority, working with Hillary Clinton as President to get important things done for the American people. Instead, I will be part of a loyal opposition in Congress. I'll put aside differences and work with President-elect Trump to the extent he supports policies that benefit our economy and working families, such as investing in infrastructure. But to the extent he tries to advance the darker, more divisive aspects of the agenda he championed during the campaign, I will oppose him mightily.
Last night, I tried to console my tearful 16-year daughter by explaining that our country will continue moving forward, despite having a man like Donald Trump as our President. Our country is a lot bigger than one man, and we've come through other periods of darkness — slavery, the Civil War, World Wars I and II, the internment of Japanese-Americans, segregation, and McCarthyism, to name a few. Our progress toward a more perfect union has always been fitful, with setbacks that seemed permanent at the time. But we always kept moving forward.
As our irrepressibly optimistic Vice President Joe Biden likes to say, "It's never, never, never been a good bet to bet against America."
Donald Trump represents a narrow and temporary snapshot of our country – not the bigger picture and definitely not our future. For now, those of us with scared, tearful children, and those of us who shared Hillary Clinton's vision of a hopeful, inclusive and big hearted America will need to draw comfort and strength from each other to meet the challenges ahead.
And we'll need to remember that progress happens at every level of our society, not just the Presidency. I woke up today struggling to find some perspective on the ugliness and chaos of the national election. Then I read an email my Chief of Staff, Ben Miller, had just sent to our entire team. He said, "It helped me to focus on talking to my kids this morning. I told them it's still important to be kind, no matter what the new President does. And that it's ok to be sad, but we should use that to come up with responsible ways to try to help other people. If we're about to live through an ugly time in our country's history, let's be proud of the way we conduct ourselves, and try to be the kind of people our kids will be proud of when they think back on it."
I was further inspired by reading these words from a New York Times columnist: "Maybe the purest act of patriotism involves well-meaning citizens redoubling their efforts at being respectful, compassionate and decent in their everyday lives. It's what we can control, after all, our small gift to democracy, beyond all the noise and fallout that our politics inflicted in 2016. We toast to our endurance and maybe our resilience, too."
Working together, through actions big and small, we will get through the next four years and continue our forward progress toward a more perfect union.
Thank you so much for your support and friendship.
As ever,
Jared Huffman


From Rossbacher:
Dear University community:

As a nation, we have just experienced a presidential campaign that was very different from others before it. The rhetoric was sharper and more divisive, particularly around issues of race, gender, identity, and immigration status. The personal attacks went far beyond what is acceptable. People across the country were deeply invested, and this was reflected in the resulting votes. The outcome has generated a strong emotional response.

As I have spoken with students, faculty, and staff on campus today, I have felt the frustration, grief, and anger that many of you are experiencing. The strength of these reactions is greater than I can recall following any previous election. At the same time, I am heartened to see American democracy in action, including this morning's moving concession remarks and the many voices on the Quad at noon today.

The University will be reaching out to support students in a number of ways, with a primary focus on ensuring that you feel safe.

As you work to understand your own response to the election and to support your colleagues and friends, please remember that the University has many resources available to support you. They include:

Counseling & Psychological Services - (707) 826-3236
Counseling & Psychological Services (CAPS) offers same-day intake appointments, on-call crisis availability, in-person counseling, and 24/7 phone support for after-hours assistance.

Dean of Students Office - (707) 826-3504

University Police Department - (707) 826-5555
Emergencies - 911

Cultural Centers for Academic Excellence- (707) 826-4589
African American Center - (707) 826-4588
Latinx Center - (707) 826-4590
Native American Center (ITEPP) - (707) 826-3672
MultiCultural Center - 707) 826-3364

The University offers the RAVE Guardian Safety Mobile App for all members of our University community. You can learn more about it and download it here, and use your campus email to register.

Employee Assistance Program (for faculty and staff)- (707) 443-7358

We will all need some time to process everything that has happened during this election. At today's noon gathering on the Quad, students spoke of their own fears and concerns, the need to be engaged, the importance of supporting each other, and the commitment to using their education as a tool for change. As a community, we can build on our shared values, including respect, diversity, the dignity of all people, free inquiry and intellectual growth, and social justice.


With very best wishes,

Lisa A. Rossbacher, Ph.D.
President
From White:
​​​The California State University embraces its diversity and the way in which our students, faculty and staff achieve excellence through inclusion. We are unequivocally committed to supporting all members of our community. That is who we are. It is a core strength and part of our DNA.

​​​Elections are essential to democracy. Yet, they are not easy. They test our resolve, but also our understanding and compassion. They can be difficult and sometimes even painful, especially for those who hoped for a different outcome.

​​​Today, many in our community may feel anxious and perhaps vulnerable about their personal future, the future of those they care for and the future of our nation. It is our duty – as a community – to listen to each other and support each other through this time.

​​​It is also our responsibility to hold our political leaders to account, regardless of party. To meet that obligation, the California State University and California State Student Association will together be leading advocates in advancing the rights of our students, faculty and staff.

​​​In this effort, we stand with California's political and civic leaders, our colleagues in the University of California and California Community Colleges, and our many peers nationwide who care about and are dedicated to a nation that lives up to its highest principles.

Timothy P. White
Chancellor
California State University