Mark McKenna
Officers secured the scene before clearing medical personnel to respond to help Clayton Lee Lasinski, who was shot by police after allegedly brandishing a firearm at officers.
Amid the
chaotic foot pursuit
in downtown Eureka Tuesday evening that ended with 26-year-old Clayton Lee Lasinski shot once in the chest, officers fired more than 40 shots, Eureka Police Chief Andrew Mills confirmed to the
Journal
.
Lasinski remains hospitalized, but is expected to survive. No officers were injured in the incident, and Mills also confirmed this afternoon that he doesn't believe Lasinski ever fired his .45 caliber pistol during the incident that took place shortly before 5 p.m.<!—EndFragment—>
"I do not believe he fired any rounds — I believe he didn't know how to manipulate the gun," Mills said, explaining that the gun taken from Lasinski at the end of the incident had a full clip, an empty chamber and its hammer cocked back, which Mills believes indicates Lasinski didn't realize he had to pull a round into the gun's chamber in order to fire and was "dry firing" the weapon at officers.
The incident began after a California Highway Patrol officer attempted to pull Lasinski's Dodge pickup truck over after he allegedly rolled through a stop sign when turning westbound on Fourth Street in Eureka. Lasinski then allegedly pulled the truck into the parking lot of the Best Western, where he bailed on foot — leaving two female passengers in the car — and fled the scene.
The CHP officer asked EPD to assist in canvassing the area for Lasinski, saying he was possibly armed with an unknown weapon. A few moments later, the officer called dispatch to report that Lasinski was in possession of a handgun, according to a Best Western employee who said the suspect had pointed the gun at him while fleeing the property.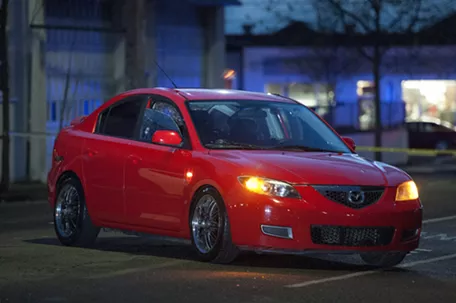 Mark McKenna
The red Mazda allegedly stolen from Sole Savers and abandoned about a block away.
An EPD officer finally spotted Lasinski near Seventh Street and pursued the suspect on foot. Lasinski allegedly ran into the parking lot of Sole Savers auto dealership, where he found a red Mazda 3 idling in a loading bay with its passenger door open. Lasinski got into the Mazda as the officer approached, according to a witness interviewed by the
Journal
, and the officer opened fire into the driver's side door area of the vehicle. A moment later, the witness said, the Mazda peeled out and fled the scene. On Wednesday, numerous bullet holes were visible in a white equipment shed in the loading bay behind where the Mazda had been idling the night before.
Additional shots were fired as the Mazda left the Sole Savers parking lot, according to the witness. The vehicle came to a stop a block away, in the intersection of Sixth and B streets, where additional shots were fired. Lasinski then fled down B Street toward Fifth Street, stopping at one point, according to a witness, to turn and point his pistol at pursuing officers, and drew more police fire. Ultimately, officers pursued Lasinski onto Fifth Street, where he stopped about halfway down the block between B and C streets, leaning against a black Volkswagen Jetta. Officers staged nearby with weapons drawn, but waited as Lasinski appeared to bleed out and collapse to the ground. At that point, they moved in, pulled a firearm from Lasinski's hand and called for medical to come and assist him. According to witness accounts and video of the incident, officers did not attempt to provide first aid as they waited for paramedics staged nearby to move in and care for Lasinski.
Several sources not authorized to speak publicly about the multi-agency investigation into the officer involved shooting told the
Journal
that the preliminary investigation indicates officers fired a total of 44 rounds during the pursuit. Mills said he couldn't confirm that number, but said he could confirm that "more than 40" shots were fired during the incident.
Meanwhile, the investigation is ongoing. Mills said the four officers who fired their weapons were scheduled to be interviewed this afternoon and will remain on administrative duty until cleared to return to the field. Their names have not yet been released to the public.
At a
press conference
Wednesday, Mills said he understands "that each officer is personally accountable for every round that they discharge and where that round ends up. And I will report back to the community once we've completed that investigation as to our actions last night."
Mills said today that investigators have been working hard to figure out where every round discharged by EPD officers was fired, as well as where they ended up. The investigation remains ongoing.