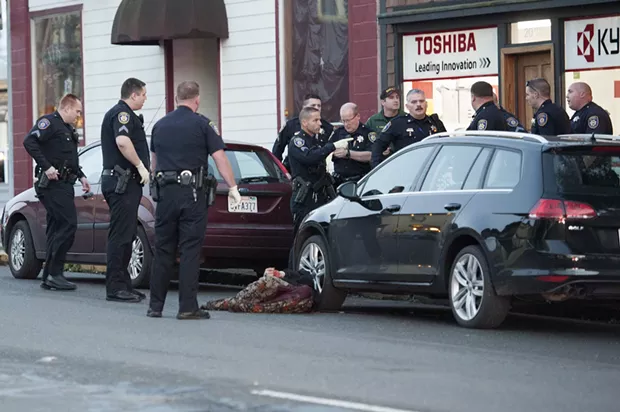 Mark McKenna
Officers secured the scene before clearing medical personnel to respond to help Clayton Lee Lasinski, who was shot by police after allegedly brandishing a firearm at officers.
The Eureka Police Department has identified the four officers who combined to fire more than 40 bullets during a
Dec. 6 pursuit
through Eureka that left a 26-year-old suspect with a non-fatal gunshot wound to the chest.
The suspect, Clayton Lee Lasinski, was armed with a .45 caliber handgun during the pursuit, but appears not to have fired it, according to Police Chief Andrew Mills. The officers who fired their weapons during the pursuit are Ron Harpham, a 25-year veteran of the force, Abraham Johnson and Steven Linfoot, both hired in 2013, and Dustin Nantz, hired in 2014.
Several sources not authorized to speak publicly about the multi-agency investigation into the officer involved shooting told the
Journal
that the preliminary investigation indicates officers fired a total of 44 rounds during the pursuit. Mills said he couldn't confirm that, but said officers did fire "more than 40" shots during the incident.
Linfoot is the same officer involved in EPD's
last shooting
of a suspect, when he was the only officer to open fire in the fatal shooting of 22-year-old Thomas "Tommy McClain" in September of 2014. Last month, a
federal jury
found Linfoot and McClain were both negligent in the incident, awarding McClain's family $150,000 from the city of Eureka. The Humboldt County District Attorney's Office found Linfoot did not act criminally in the shooting, and a review by the EPD found he did not violate departmental policies and acted in self-defense when he opened fire.
The current shooting remains under investigation by the Humboldt County Critical Incident Response Team. For more information, see past coverage
here
and check out this week's
Journal
, which hits news stands Wednesday.
See the full EPD press release copied below:
On December 6, 2016 at 1650 hours, officers of the Eureka Police Department responded to an emergency assist call from a California Highway Patrol officer for a fleeing suspect. The CHP officer said the fleeing man was armed with a weapon. Additional citizens reported the suspect's direction and the fact that he was armed with a gun. EPD officers soon located Clayton Lee Lasinski (09/11/1990) and ultimately fired numerous rounds at him. Lasinski was struck once and taken into custody. Lasinski was taken to Saint Joseph Hospital by medics where he was treated, and he is expected to survive his injury.

The officer's names were not released until now due to an on-line threat concerning the shooting. The officers who fired rounds are:

Ron Harpham May 28, 1991
Abraham Jansen November 1, 2013
Steven Linfoot August 1, 2013
Dustin Nantz February 1, 2014

Each of the officers involved in this incident have been placed on administrative duties until cleared duty.