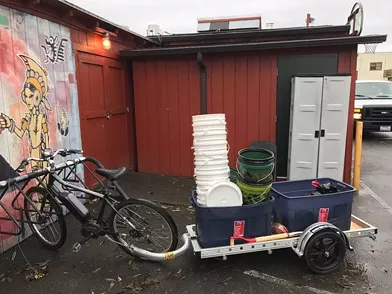 Submitted
Arcata Compost Revolution's sweet ride, preparing for a pick up.
This past week saw two major milestones for Arcata consumers. First, as of midnight on Friday, the independent Arcata Garbage Company officially passed into the hands of Recology Humboldt, which provides trash services for several other Humboldt cities. The parent company, Recology, has become a West Coast behemoth, with resource recovery companies in California, Oregon and Washington.
But Humboldt Recology Manager Linda Wise says virtually nothing will change for Arcata residents.
"People should be seeing the same service, same employees," says Wise, adding that Recology is an employee-owned company, and all Arcata Garbage employees will stay on. "Eventually, we'll get a new website, logos on trucks and buildings. There will be no changes in any costs."
The change came about as longtime owner of Arcata Garbage Co., Rick Fusi, decided to retire. Fusi was interviewed for a 2012
Journal
story about Humboldt's surprisingly dramatic recycling scene. That story can be found
here
.
But as trash goes corporate, there's a new indie business dealing in dirt. The newly-minted Arcata Compost Revolution, begun by
avid Zero-Waster and Humboldt State University student Alec Howard
, launched this week with three restaurant clients. The small business is community scale and uses an electric bike and cart to collect food scraps and compost, which it is pedaling to local farms.
"We have plans to get more businesses on board this month," says Howard, who is moonlighting between classes and a job with the city of Arcata. Ultimately he hopes to employ students. "In 2017, we're planning to expand to residential compost as well. A lot of people try to manage compost piles and don't do that effectively. Some people run into the common issues associated with having compost piles; they have rats, don't have the right materials, or amount of materials. Or they simply don't have the time."
Howard argues that large-scale compost collection, which is offered in many major cities, can be problematic because of the carbon footprint of vehicles used to haul the material. In a recent analysis of Humboldt County's waste stream, Cascadia Consulting found that
food waste is the heaviest material leaving Arcata
. A pedal-powered, hyper-local compost service that caters to local farms could disrupt that trend. Recently, Howard and his business partner, Milly Correa, hauled old Halloween pumpkins to a local farm and fed them to the pigs.
"They were very happy," says Correa.
Facebook
Piggies at Tule Fog Farm chowing down on Jack O'Lanterns.