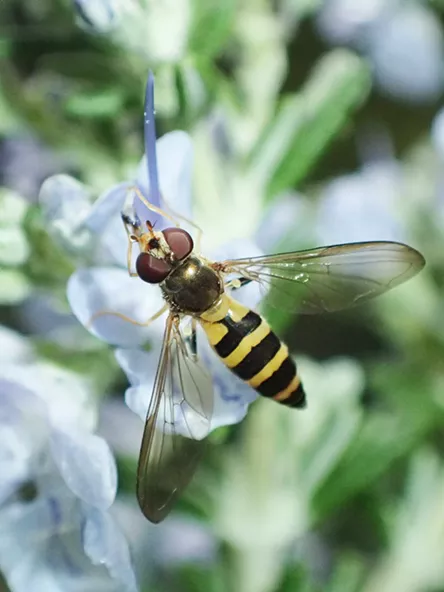 Anthony Westkamper
A flower fly on rosemary.
As the song says, "It's raining again/ Oh no, it's raining again." So what does an entomological photographer do when it's been raining for days and days? He gets wet. Today, taking stuff out to the compost, I noted the rosemary is blooming. At first I couldn't see anything moving, then bit by little bit I first heard and then saw a number of honeybees industriously working their way through the blossoms.
Anthony Westkamper
A tiny gnat with fuzzy antennae.
Some really tiny gnats appeared next and once my eyes adjusted to seeing the tiny creatures a number of small hover and flower flies showed up. Of course, they were there all the time, moving about, but it takes time to get my mind to not filter them out and allow me to notice them. It's almost like a magic trick. First they aren't there, then they are.
Anthony Westkamper
Honeybee with corbicula on its hind legs half full of pollen. Note pollen grains on bee's head as well.
I busied myself following first this one then another, but eventually got distracted by a hum of a different pitch than that of the honeybees. Eventually I was able to track it down. It was a drone fly, which is a very good bee mimic. You can tell them apart by the flattened shape of the abdomen and how the fly's eyes meet in the middle, whereas the honeybee's are separated. Also the bee has corbicula, or pollen baskets on its hind legs. When I was a kid, I'd catch droneflies and surprise my less entomologically inclined friends by holding them in my hands and not getting stung. Of course, I never ever dared those kids to try anything like that.
Anthony Westkamper
A drone fly, not a honeybee.