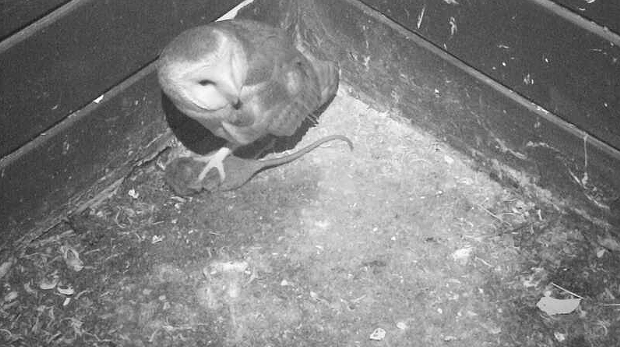 Submitted
A screenshot from the new OwlCam.
The Ferndale Music Company and the Old Steeple, housed in a historic church at the corner of Bluff and Berding streets in Ferndale, have collaborated with Ferndale Tech to bring you a unique view of the town and some of its flightier residents.
The "Owl Cam," which can be accessed using
this link
, offers a panoramic view of the town from the building's bell tower, which is 50 feet high. It also gives lookie-loos a glimpse into the lives of the bell tower's barn owls, generations of which have made their home in the church since 1902, according to the Old Steeple's press release.
From The Old Steeple:
Welcome to the top of Ferndale! Ferndale Music Company and The Old Steeple, in collaboration with Ferndale Tech, bring you a view previously only for the birds with the new "Owl Cam," a panoramic webcam with infrared light situated 50 feet up in their historic building's bell tower.

Generations of Barn Owls have called the steeple home since its 1902 construction. Tune in at night to glimpse the current family swooping in with their latest catch or preparing the nest for owlet season (March-August). During the day, explore vistas of the Eel River Valley, from waves breaking on Centerville Beach to the sun rising over the Victorian Village.

Check out the "Owl Cam" at FerndaleOwlCam.com.

Ferndale Music Company and The Old Steeple are located at 246 Berding Street (next to the cemetery) and are open from noon to 5pm Monday-Saturday. For more info, call 786-7030 or visit ferndalemusiccompany.com.