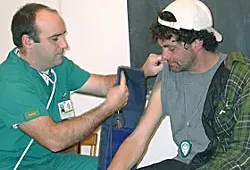 File photo
Public health officials say there's still time to get a flu shot.
There's good and bad news about this year's flu season. The bad news: It's here. The good news: The current shot is a close match to the strain that is striking the county — meaning better protection against the flu — and there's still time to get one, according to public health officials.
Humboldt County Department of Health and Human Services public health nurse Eric Gordon said there have been 13 laboratory-confirmed cases of the flu in Humboldt County as well as anecdotal evidence indicating a respiratory illness is definitely going around. That includes, he said, a spike in emergency room visits for people exhibiting flu-like symptoms over the last few weeks and a corresponding uptick in the sale of over-the-counter cough and cold medicine.
With the vaccine taking about two weeks to become effective and flu season just getting under way: "Now is the time to get the flu shot," according to Gordon.
"The sooner you can do it, the better," he said.
Public health agencies recommend the annual flu vaccine for everyone six months of age and older, including pregnant women.
The latest statistics from the California Department of Public Health show there have been nine laboratory-confirmed, influenza-related deaths in individuals under age 65 in the state this flu season: which started in October and runs until May.
None of the deaths were in Humboldt County.
Gordon said the influenza virus is generally broken down into two categories: stain A — which make you sicker — and strain B. Strain A was confirmed in the two local laboratory cases.
How bad will this season get? Gordon said it's too soon to tell.
"We are just really heading into it, so we'll basically see where we are at in another month or so," he said.
Gordon said flu shots are available at local pharmacies, the county's Public Health Clinic and through individual medical providers.
Beyond getting vaccinated, public health officials also offer the usual common sense advice:
•Stay home when you are sick.
•Cover your cough and sneezes with a tissue.
• Wash your hands often and thoroughly with soap and warm water or an alcohol-based hand sanitizer.
• Avoid touching your eyes, nose and mouth.