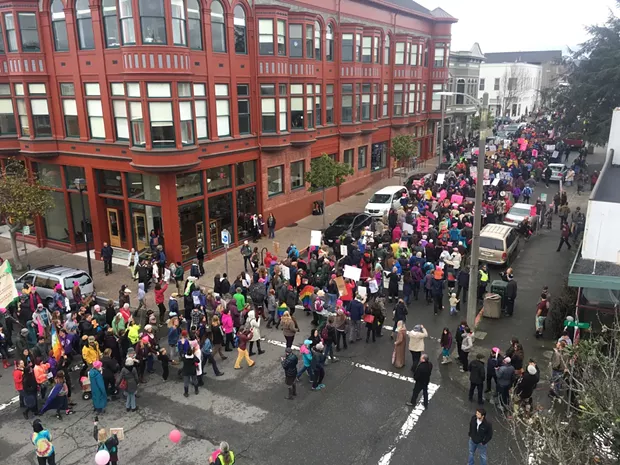 Mark McKenna
Marchers turn onto Third Street.
UPDATE: Organizers report that the official tally for Saturday's march was between 7,000 and 8,000 people, which is roughly six percent of Humboldt County's total population.
Previously
:
Thousands of people turned out to Eureka's waterfront this afternoon in what event organizer Nancy Stephenson has said was the largest march in the city's history. The Eureka Women's March, held in solidarity with other Women's Marches around the world, began at Fisherman's Plaza at First and C. Due to start at 1 p.m., by noon the plaza had already filled, and Old Town sidewalks were packed with hundreds protesters waving signs, many wearing the signature pink "pussy ear" knit caps that have become a symbol of protest against President Donald Trump's admission to grabbing women's genitals without their consent.
The signs in the crowd reflected a diverse spectrum of concerns regarding Trump's platform. Many reiterated their solidarity with women and advocated for reproductive rights. Others expressed their support for LGBTQ, immigrant and environmental rights.
"Hey, ho, the pussy-grabber must go," chanted one contingent.
"Donald Trump eats pizza with a fork," read another sign.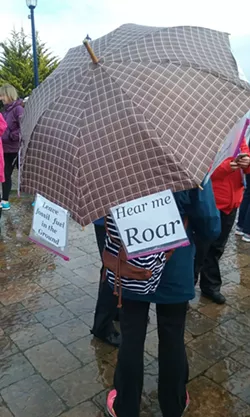 Linda Stansberry
Protesters found creative ways to resist the elements.
Peggy and Rachel Grossman, a mother and daughter, waited in a line that spilled out the door of Ramone's Cafe before the march, holding umbrellas and protest signs. Rachel, a College of the Redwoods student who voted for the first time in this election, said she came out to support other women and to be with her mother.
"We're standing in solidarity and supporting women," said Peggy Grossman. "We are standing up for other minority groups as well."
"It's important to show that there are people who have respect and kindness," added their friend Lu Hicks.
A driving rain sent some people under tents at the plaza, but it had ceased by the time the speakers began. A diverse group of men and women spoke briefly about their concerns for the administration, calling for unity and offering suggestions on how to organize under the new administration.
Cheryl Seidner of the Wiyot Tribe led the crowd in a moment of silence and prayer.
Dr. Wendy Ring encouraged people to take action and ask their local governments to become sanctuary cities and to implement strong climate action plans.
Terry Uyeki, one of the march's organizers, recalled her grandparents' experiences in Japanese internment camps and called for attendees to stand in solidarity with Muslims and immigrants.
Songs performed by Joanne Rand and the Arcata Interfaith Gospel Choir earned loud applause, as did a poem read by Sue Lee Mossman, inviting people to "come walk in the rain with me."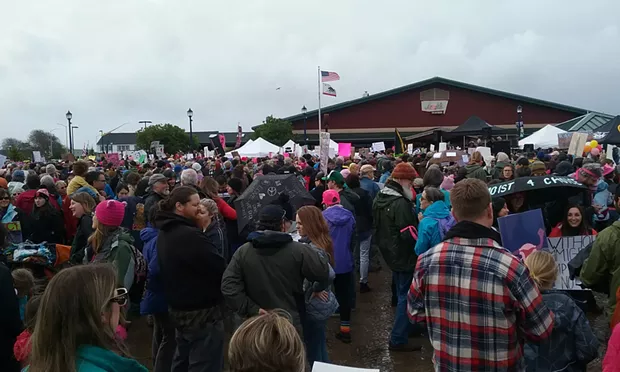 Linda Stansberry
A large crowd at Fisherman's Plaza.
The crowd was so large that, once the march began it bottlenecked as people followed a marching band along the waterfront. A large section of the crowd split off and went down First street, where they reunited and filled F Street, turning north on Third, turning around to return to the plaza. The mood was largely positive and the crowd was filled with families, couples and dogs.
An hour after the Women's March ended a separate splinter protest by a local anarchist group blocked traffic at Fourth and H Streets. Four arrests were made.
Mark McKenna
Protesters stand their ground.
Editor's Note: This post was updated to correct the names of Dr. Wendy Ring and Sue Lee Mossman, as well as to reflect an accurate number of arrests.