Anthony Westkamper
A florescent millipede of the Mytoxia genus needs no black light to glow.
The other day I received my new ultraviolet (black light) 51 LED flashlight from Amazon.com ($9.99). A significant upgrade from my old one. I discovered that some millipedes glow brilliantly under UV. Outside in the dark it's like a different dimension in a sci-fi story — the trees are in the same places but everything else changes. Wherever the rhizomes of the Redwood Sorrel break the surface the black light makes them glow mightily in the yellow green part of the spectrum, while their leaves light up a dim, dark red.
Spots where animals have urinated glow a diffuse yellow, bird droppings light up and here and there some (but not all) mushrooms fluoresce in various colors.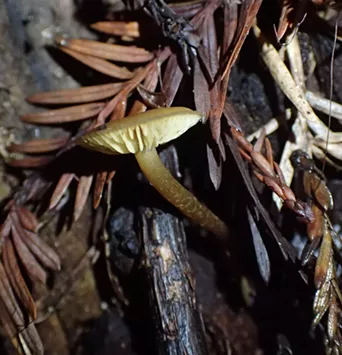 Anthony Westkamper
A modest mushroom under white light.
Anthony Westkamper
The same fungus, but more fun.
The real stars of the show are the millipedes. While some light up brilliantly throughout their entire body, the cyanide millipede (
Harpaphe haydeniana
) appears as a twin chain of moving dots.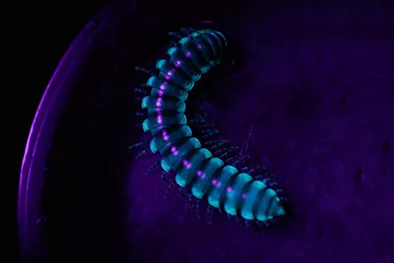 Anthony Westkamper
The cyanide millipede under black light.
Anthony Westkamper
The cyanide millipede by day.
It gets its common name from emitting hydrogen cyanide when it is disturbed. A bit of research on millipedes (class Diplopoda) led me to the High Sierra genus Motyxia, whose members glow even without the need for a black light. There is an interesting article with a cool video clip of them on
www.nationalgeographic.com
.