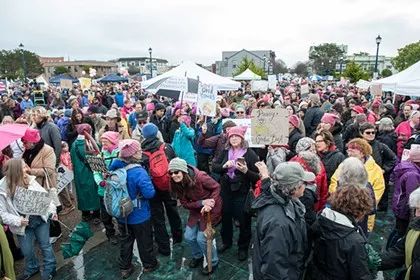 Mark McKenna
The Eureka Women's March gathering at C Street.
On Jan. 21 an estimated 5,000 women, men and children (not to mention a few pets) joined the
Eureka Women's March
, winding through Old Town in solidarity with the Washington D.C. Women's March in protest of newly inaugurated President Donald Trump. There were plenty of pink "pussy-ear hats" in the crowd, as well as homemade signs. Photographer Mark McKenna was on the scene capturing the faces, signs and stories at what is being called the largest such march in the city's history. Click the slideshow below for highlights from the day.
14 slides