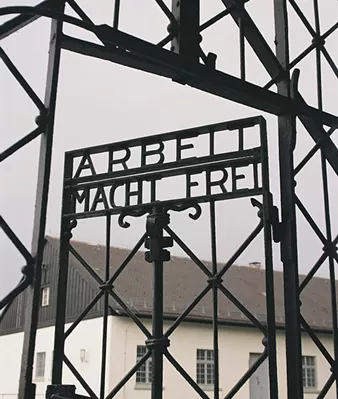 Thinkstock
Concentration camp, Munich, Germany.
Today is Holocaust Memorial Day, an opportunity for citizens of the world to stop and reflect on what the
National Holocaust Museum
describes as "the systematic, bureaucratic, state-sponsored persecution and murder of 6 million Jews by the Nazi regime and its collaborators." It's a time to remember the devastating consequences of allowing xenophobia, scapegoating, religious, racial and ethnic persecution, homophobia and prejudice against the disabled to take root in government and civil society.
And since the Nazis were so fond of burning books, it's also a good time to pick one up. Our local booksellers and the Humboldt County Library have volunteered their recommendations for learning more about the Holocaust. Read and remember.
From Eureka Books:
Chasing Portraits: A Great Granddaughter's Quest for Her Lost Art Legacy
by Elizabeth Rynecki ($28). An inspiring story of rigorous research and discovery as Rynecki regains pieces of her family's cultural heritage that were displaced during WWII.
From Tin Can Mailman:
Maus
by Spiegelman ($8.50). It's a graphic novel story of a cartoonist telling the story of his father who was a Holocaust survivor.
From Booklegger:
Night
, by Elie Wiesel ($5). An account of the author's time in the Auschwitz and Buchenwald concentration capmps — a must-read from the era, and a beautiful and devastating literary accomplishment.
From Rain All Day Books:
Shalom, Salaam, Peace: Reflections on Interfaith Peacemaking
by Reverend Allison Stokes ($4). From the jacket: "Her comparisons of the Abrahamic faiths serve to move us from ignorance to understanding and from fear to respect."
From Blake's Books:
The Zookeeper's Wife
by Diane Ackerman ($15.95). The story of how the keepers at the Warsaw Zoo saved more than 300 people from the Nazis.
From Northtown Books:
Not to Hate But to Love, That is What I Am Here For
by Heinrich F. Liebrecht ($19.99). A memoir of a Holocaust survivor's path to reconciliation, translated by Ursula Osborne, a friend of Liebrecht's and an Arcata resident.
And from the Humboldt County Library:
Star of Fear, Star of Hope
by Jo Hoestlandt with illustrations by Johanna Kang, translated from the French by Mark Polizzotti. It tells the story of Helen and her best friend Lydia who are separated due to mass arrests and relocations of France's Jewish population. It's an excellent starting point for discussing the Holocaust with younger school-aged children grades 2 through 5.