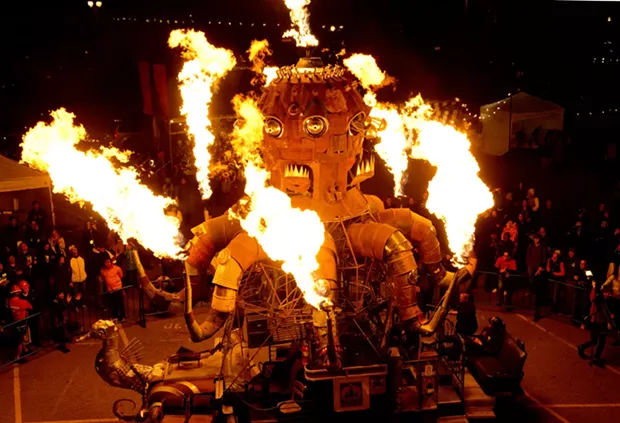 File
We're not sure what Huffman looked like while Facebooking, but we like to imagine it was something like this.
Though still in its infancy, the presidency of Donald J. Trump has turned North Coast Congressman Jared Huffman's
Facebook page
into straight fire.
The Huff, who is entering his third congressional term riding high after taking 76 percent of the vote in November, has unleashed a scathing post daily since Thursday.
First, Huffman shared an
op-ed
in the
Washington Post
written by one of the lawyers representing a liberal nonprofit that recently brought suit against Trump, alleging he is in violation of the emolument clause in the U.S. Constitution, which bars federal elected officials from taking gifts or payments from foreign governments. In his post, Huffman, a lawyer himself, says the suit could "shed light on what seems like an obvious constitutional violation by Pres. Trump. But regardless of litigation, Congress must use its oversight authority to get to the bottom of this — and disclosure of Trump's tax returns is essential to that."
"Mr. Trump is hiding something that could be grounds for impeachment," Huffman continued. "Congress must not let him get away with it."
The linked op-ed is an interesting read for its history lesson alone. For his part, Trump said the emolument lawsuit is "without merit."
Then, Friday morning, Huffman again took to Facebook to vent on "Trump's latest whopper," linking to a
bizarre story
about a German golfer and the president's unfounded claim that millions of fraudulently cast ballots cost him the popular vote. Huff says Trump's illegal vote allegations — and I'm pretty sure these are both legal terms — are based "entirely on hearsay and hooey."
"POTUS saying something this fantastical, and then hinting at a 'major investigation' on the subject, can only mean: 1) he's once again trying to distract the press and the public; or 2) he's getting ready to launch a major voter suppression initiative with Suppressor-in-Chief Jeff Sessions and will use this as a pretext. Either way, it's shameful."
Sessions, of course, is Trump's pick to lead the U.S. Justice Department as the nation's next attorney general, and a man whose nomination for a federal judgeship in 1986 was torpedoed by allegations of racism and voter suppression, which caused the Senate Judiciary Committee — then chaired by Strom Thurmond — to reject his nomination.
On Friday evening, Huffman again took aim at the president, saying his "cynical sabotaging of insurance coverage for real people, under current law, is not OK," and urging folks to spread the word that
Covered California
— the state's health insurance exchange under Obamacare — has an open enrollment period that runs through the end of today.
That's a lot of fire for one week, but the Huff wasn't done, as he weighed in this morning, lamenting that "it seems each day brings a new outrageous executive order from Pres. Trump" and reassuring his constituents that he will be doing all he can to oppose "many of these overreaching, arbitrary and probably unconstitutional actions," specifically noting Trump's
order
barring the admission of refugees and immigrants from some Muslim countries into the United States.
"If these actions can be stopped in Congress, I'll fight to do that," Huffman continued. "If they can be stopped in the courts, I'll support and even join litigation to do that."
While the merits of Trump's first week on the job are certainly up for debate, there's no question it has made one North Coast congressman's Facebook page a more dynamic read.