Anthony Westkamper
Almost certain this is the Devil's coach horse beetle.
It is a rare event that I go out looking for a particular species of insect and find it. Well, for once I succeeded.
A week ago on one of those sunny-ish days I took a walk down the Van Duzen River and noted dozens of tiny flying insects. I chased a couple down and grabbed them right out of the air. As I opened my hand expecting to see an unidentifiable smear, I found a perfectly healthy, tiny rove beetle. For the most part you can identify them by the fact that their elytra (wing covers), don't cover much of their abdomen, but they are usually good flyers. Although they are harmless, when stressed they often raise their tail over their backs like a threatening scorpion. Some species might emit insect sized doses of something unpleasant, which is totally insignificant on our scale.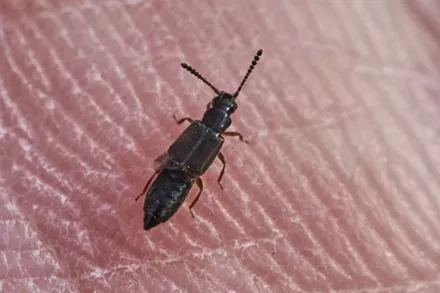 Anthony Westkamper
Tiny rove beetle caught out of the air (probably making me look like a loon to any onlookers). You can tell how small it is relative to my fingerprint ridges.
A little research told me they are the largest family of beetles in North America, estimates from my sources varying between 2,900 and 3,100 species. Although common, they are seldom noticed since most of them live lives of seclusion in leaf litter or under rocks. Many species are attracted to carrion but usually just to feed on the other insects that dine on it. Some eat fungi or decaying leaf litter.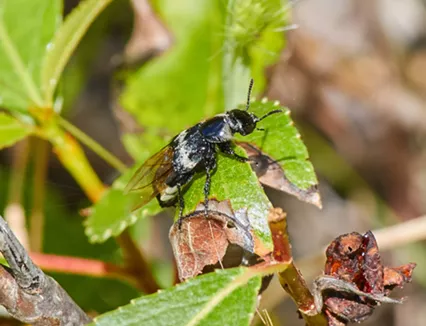 Anthony Westkamper
The hairy rove beetle resembles a bumblebee in flight.
A few years ago I took some photos of one I thought was a bumblebee, due to its flight pattern and coloration. It turned out to be a "Hairy Rove Beetle."
Anthony Westkamper
The devil's coach horse is nearly an inch long (bold lines are 10 millimeters apart.
I had to catch the one I was after today to get a photo because as soon as I lifted the board it was under it tried to dig into the soil and get away. I had no chance of getting a good shot in natural conditions so I caught it and took it inside for a photo shoot. (It was returned to the wild unharmed.) I wanted to share this particular species because of its neat name. I can't be 100 percent certain since none of my references take this family down to individual species but it certainly looks like the "Devil's coach horse."