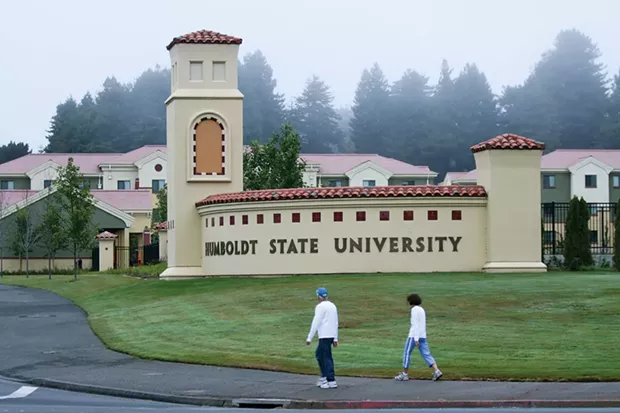 Richard Boone walked back and fourth in front of a group of campus community members who gathered in Humboldt State University's Goodwin Forum on Thursday. Behind Boone, the university's dean of natural resources and sciences, was a large projection screen that read, "Campus wide discussions: Inequalities, justice and inclusion."
Boone, who was recently appointed to his post in July of 2016, led the discussion on creating a more inclusive and safer campus community. All students, staff, faculty and administrators were invited to have a dialogue on how the school can be more inclusive to undocumented students, people of color and the LGBTQ community.
"Well, it's not quite like the turn out we had in the previous meeting," Boone said, pointing out that the previous forum drew more than 300 people.
Thursday's dialogue followed up on that Nov. 17 meeting, with groups of students, faculty and administrators meeting in small groups in HSU's Great Hall to develop short- and long-term goals toward creating a more inclusive environment. Many students shared experiences of discrimination or the around campus and the surrounding community.
Each dean's office transcribed the comments from the meeting before and uploaded them online. Boone said one of the most repetitive comments was that faculty and staff need more training in dealing with issues of racism and discrimination.
"The focus is the students," Boone said. "And they need to be the center of this dialogue."
Only a handful of students attended Thursday's meeting, but the dean said he was not too concerned with the student turnout.
He said a lot of students didn't go to the meeting because it was scheduled last minute and future meetings will be better prepared. He said they just wanted to call the meeting to convey that the departments of HSU, including the three dean's offices, have been working hard since the last meeting.
"I think that the small groups were the reason why that dialogue was so successful," Boone said,. He said administrators are planning to hold more meetings with larger student audiences in the future.
file
Rossbacher
HSU President Lisa Rossbacher attended both meetings and said the university received a very serious message about changing, starting with more training. Thursday's meeting came about two weeks after Rossbacher signed a letter, along with 26 other CSU presidents, in opposition to President Donald Trump's executive order on immigration.
"Thank you so much for doing this," Rossbacher said to the three deans. "Clearly there was a need for this at your levels."
An HSU student voiced her concerns about the resources the university dedicates to supporting its undocumented students, saying it should create a center to legally and financially support its undocumented students.
Trump's executive orders have also kicked off some concern for Title Nine, a federal law that prohibits discrimination on the basis of sexual identity in any federally funded education program.
Randi Darnall Burke, dean of students, reassured the people in the room that it is highly unlikely the Trump administration will be able to change the federal law. "California and the Cal State system will not change Title Nine," she said.
Meanwhile, HSU has still not filled its open position of director of the Office of Diversity and Inclusion. The position has been vacant for about a year since the last director, Rhada Webley, took another job as associate vice president of HSU's office of retention and inclusive student services in February of 2016.
The position is being temporarily filled by two faculty members and, according to HSU's website, the office is in charge of developing policies for the campus and actively seek institutional diversity. The position is also supposed to "overcome the historical and social inequities that continue to challenge students, faculty and staff from underrepresented groups."
HSU spokesman Jarad Petroske said the university is still interviewing candidates and expects to bring them to campus during the first week of March. He said a hiring decision is expected the following week.
Vincent Feliz, an employee in the dean of student's office, said at Thursday's meeting that diversity issues don't just stop at the campus border. He said the campus community, as a leader, needs to be the change in the surrounding community. He said Arcata is generally a white region and it's important to work with the greater community to ensure students feel safe.
"I think there's a lot of work to be done," Feliz told the group, "and I am willing to jump in with you."