Courtesy of Potawot Community Garden, UIHS
Potawot Community Garden farm stand.
When the Northern California Tribal Courts Coalition (NCTCC) was awarded a grant to improve tribal health last year, it didn't hesitate in identifying food as the keystone. Spearheaded by Program Director Cynthia Boshell, NCTCC will roll out its first Tribal Youth Food Sovereignty Camps later this month. The all-day camps will consist of hands-on education, discussion and participation in growing and cooking native foods. In order to serve youth on the coast and inland, the camp will be repeated on consecutive days: Wednesday, Feb. 22 in Potawot; Thursday, Feb. 23 in Klamath and Friday, Feb. 24 in Orleans.
"Food sovereignty is really about tribal sovereignty," says Boshell "How do we get our health back? We reclaim our food system." In a style both eloquent and matter-of-fact, Boshell quickly explains how the corporatization of the tribal food system has caused an ongoing health crisis for many tribal communities. Serving five local tribes, the Yurok, Karuk, Tolowa Dee-ni' Nation, Hoopa Valley and Bear River Band of Rohnerville Rancheria, the Tribal Courts Coalition is a nonprofit whose mission is to "restore balance and order in our communities, while honoring sovereignty and cultural values." By focusing attention on youth, Boshell and NCTCC believe that future tribal leaders will develop a deep appreciation for the necessity food sovereignty. "Inadequate nutrition and food insecurity really challenges the ability to govern," adds Boshell.
Youth attending the free Tribal Sovereignty Food Camps will hear from special guest speaker, Valerie Segrest, from the Muckleshoot Tribe of Washington. Segrest is a nutrition educator and co-author of the book
Feeding the People, Feeding the Spirit: Revitalizing Northwest Coastal Indian Food Culture.
She believes in empowering tribes through common sense, nutrient dense nutrition. Segrest will be joined by local youth activist Louis Neuner, a Karuk teen and advocate for reclaiming traditional knowledge about local food sources. Neuner will highlight the availability of local salmon, game and acorns, while the campers learn how to prepare traditional dishes using local foods. The day will conclude with everyone cooking a communal meal together, reaping the benefits of a nutritious meal and walking away with new skills and knowledge. Parents and teens wanting to enroll should register at www.nctcc.org or call 633-8889. Any youth from local tribes, ages 14-20, are welcome to attend. Enrollment is open through Feb. 20, though early sign-ups are encouraged.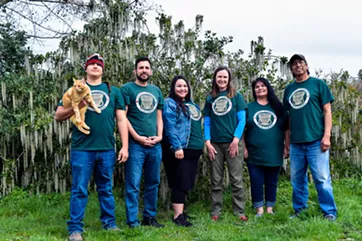 Courtesy of Potawot Community Garden, UIHS
The Potawot garden crew.
In addition to the weekend activities, the Potawot Community Garden, located at United Indian Health Services (UIHS) in Arcata, will host a garden tour on Friday, Feb. 22nd from 2 to 4 p.m. The community garden is a 3-acre plot planted to organic vegetables and native herbs. Harvesting a bounty of vegetables and berries in the summer months, the Potawot Community Garden distributes food to the UIHS community via subscription and a bi-weekly produce stand. Believing that "food is good medicine," the Potawot Community Garden welcomes volunteers to help work in their garden to elevate and inspire the health of our community. Contact 825-5000 for more information about volunteering.