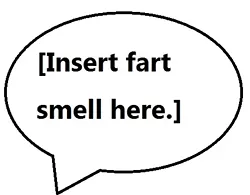 Every year voters receive a small booklet of information that includes a list of candidates, descriptions of upcoming ballot measures and arguments for and against. Most of us give those arguments – 300 words each of pros, cons and one rebuttal apiece – little thought. But most of us aren't Scotty McClure, a board trustee for the Southern Humboldt Unified School District, vocal Donald Trump supporter, anti-taxxer and civic enthusiast.
When the opportunity arose for residents in the Southern Humboldt Community Healthcare District to weigh in on Measure W – a special election measure that would create a $170 a year parcel tax within the district's boundaries, McClure jumped at the opportunity. He labored over his con statement, grudgingly complying with requests it be edited for length. When given the opportunity to answer the pro-measure W's rebuttal, he shot back with a succinct opinion that couldn't be edited for length: "Insert fart smell here."
Those four simple words have made things fairly complicated for the Humboldt County Elections Office, which is required to get the voter pamphlet out no later than March 8 for the May 2 vote. The elections clerk, Kelly Sanders, objects to sending voters a packet with a fart joke. But the date to submit pro and con arguments has passed, and McClure's was the only submission. McClure, currently vacationing in Arizona, is holding his ground.
Because McClure refuses to withdraw or amend his irreverent statement, Sanders has been forced to seek a court order to delete the offending words because state law doesn't give elections officials discretion to censor ballot arguments. Instead, the California Elections Code states that during the public examination period for elections material "any voter … or the elections official may seek a writ of mandate or an injunction requiring any material to be amended or deleted." Deputy County Counsel Joel Ellinwood explained more clearly why the fart joke is going to court.
"It's my client's position that that is not consistent with the elections code as interpreted through case law," said Ellinwood. "My client has no authority to independently interpret what should and should not be a valid argument. If there is a question about that, it has to be put before the judge."
Ellinwood refers to the part of the state elections code that might prompt Judge Timothy Cissna, in front of whom the matter will be debated, to issue a writ of mandate or injunction, which refers to material that is "false, misleading or inconsistent."
Reached by phone, Steve Chessin, president of Californians for Electoral Reform, said that at first blush the phrase, "insert fart smell here," did not seem to be meet the criteria of being "false, misleading or inconsistent," although he hastened to say this was only his personal opinion and he might revise it after reviewing the full pro-and-con rebuttals.
Ellinwood is pushing for a March 6 court date, when McClure will be back from Arizona, which will put the county just under the wire to distribute the pamphlets by deadline.
"My client feels strongly about the integrity of the elections process," said Ellinwood in a phone interview this morning. "She feels that profane expressions that don't provide information for the voters don't belong in official elections material."
He added that it was "inappropriate" for taxpayers to fund for the distribution of "irrelevant or scatological material."
McClure interprets the injunctive action, in which the board of supervisors will be named as the respondent and McClure will be listed as the party of interest, differently.
"The elections department does not have a right to censor me," he said, adding that the close date has put a damper on his Southwestern vacation.
The outcome of the hearing, tentatively scheduled for March 6, may set local precedent for the fate of future fart jokes in election material.

Editor's Note: This article was updated to reflect new material sent to us by the elections office and to correct the description of the elections code, which is a state, not a municipal code. The
Journal
regrets the error.
ARGUMENT IN FAVOR OF MEASURE W

Our local hospital has provided emergency care and other vital medical services in Southern Humboldt for nearly 70 years, but in spite of our community's best efforts, our facility is now irredeemably obsolete, and its doors will be closed by the State of California by 2030.
If we are to continue to provide around-the-clock medical care for our citizens, we must build a new facility with an acute care hospital, emergency department, and the ancillary services such as radiology and laboratory that they require. A stand-alone Emergency Room is not legal, and a 24/7 Urgent Care Clinic is neither able to provide the level of care required for emergency services nor financially viable in a community of our size.
To ensure that our new facility is ready when we need it, we must start now. Interest rates and building costs are rising. Designing, financing, building, and certifying a new hospital can take 10 years or more.
If we lost our hospital, it would cause an out-migration of young families and seniors, reducing property values, damaging our schools, and starving our local businesses. A new facility would be of modest proportions, but it would provide state of the art medical services in a sustainable setting that could serve as a hub for a wide range of healthcare modalities for many decades to come.
Passing Measure W will enable us to build a hospital that will protect the health of our seniors while supporting and promoting a vibrant community for our children, our grandchildren, and you.
Join us in voting YES ON MEASURE W.
TOGETHER WE CAN BUILD IT!

/s/ Garth Epling, Business Owner
/s/ Nancy R. Wilson, Retired Health Administrator
/s/ Craig Parkinson, Business Owner
/s/ Rio Anderson, Business Owner

ARGUMENT AGAINST MEASURE W

Whereas, the hospital district finds it necessary to "Continue" and "Increase" the existing
tax for "Another" 45, yes thats 45 more years. That will expire on June 30, 2065. They
have been collecting "the Tax" since 1988.
In the year 2000 "the Tax" was $25.00 a parcel. Since then they, "The board" has raised
it twice to its present $125.00. Now in 17 years they want to raise it to $170.00 per
qualified parcel. In 40 years how many times will they ask to raise "the Tax", and by how
much? They will be back.
I know previous board members had and still have "Timber & Ag" exemptions. Must be
nice to be able to exempt yourself.
If they have gotten out of the red then why do they need to raise your taxes. Oh,
because they can.
This fiasco with buying the CR school is as far as I'm concerned, is illegal & I intend to
file charges in Sacramento to the ethics & real estate boards & the attorney general.
This deal between CR, School board, & hospital boards just isn't right.
It would be cheaper to rebuild the old hospital in its present location & save millions.
Earthquake retro: Why? Why not get an exemption from congress (Waiver) to go ahead
& rebuild but to have to have the same standards as a 6-8 story stucco bldg is insane.
Folks look at your tax bill.
CR tax
SHUSD tax
Fire district tax
Fire fee
Shelter Cove district fee
Hospital tax
All will go up as the greed will continue.
They will never expire!
/s/ W.H. Scotty McClure

REBUTTAL TO THE ARGUMENT AGAINST MEASURE W

While the special tax has been in place, funding for rural hospitals has been
shrinking as costs rise. More than 630 communities lost their hospitals
during this time. Your hospital has been here throughout difficult times,
improving along the way. If we didn't need a new hospital, the District
could reduce the assessment, not raise it.
Would you really prefer to be an extra 50 miles away from emergency care when
your child is bleeding, your partner suffers a heart attack, or you cannot
breathe?
California healthcare district boards have five elected directors. Dozens of
your fellow citizens have volunteered time to serve on ours. Every
assessment enacted has been approved by two-thirds of the voters, just as
Measure W must be.
If we rebuild where we are, how and where would we provide services during
construction?
More and more elderly citizens need skilled nursing beds. We already have a
long waiting list. Should we send our seniors to distant for-profit
facilities more concerned about costs than care?
Disastrous damages to hospitals from the Northridge and Loma Prieta
earthquakes led to California's current seismic laws. Garberville sits on a
field of earthquake fault lines close to one of the world's largest
subduction faults.
Our single-story wood-framed hospital is not likely to collapse, but it
wouldn't take much damage to close it.
We're voting Yes On Measure W so we can build a modern, sound facility that
will be here to care for us all when we need it most.
/s/ Donna King, Massage Therapist
/s/ Shirley Gray, Hospice Counselor
/s/ Shanon Taliaferro, Briceland Fire Board President
/s/ Doug Bryan, CEO
/s/ Evelyn King, Retired Senior Center Director

FINAL REBUTTAL:

Insert fart smell here!

/s/ W.H. Scotty McClure