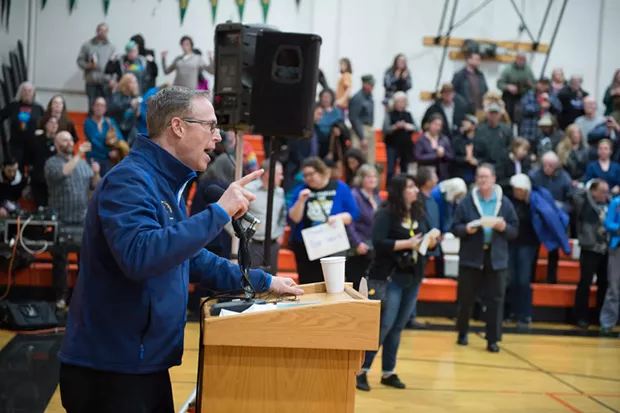 Beau Saunders
Huffman pledges to fight at his town hall in Arcata on Thursday.
There were no shouting matches, angry jeers, seas of protest signs or calls for his ouster in 2018. Unlike the rancorous town halls some members of Congress are facing across the nation, North Coast Representative Jared Huffman's meeting in Arcata was a rather friendly affair, often punctuated by bursts of applause, cheers and even laughter at his pithy jabs at the new administration.
"I'm very clear-eyed about what is going on in our county and I know my job is to fight," Huffman said to loud cheers during his introductory remarks, in which he called for a respectful and positive exchange of views.
He noted that one woman who was a supporter of President Donald Trump had contacted his office to ask whether she would be safe attending the meeting, which drew a few chuckles from the crowd.
Huffman emphasized that "whether you are a Trump supporter or a resister, I want to have a conversation with you and have it be productive."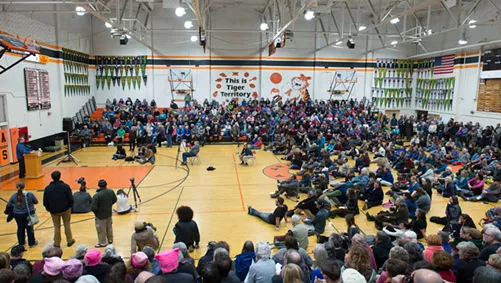 Beau Saunders
More than 1,000 people turned out for the town hall, which had to be moved to a larger venue after Huffman's office received a flood of RSVPs.
That's not to say there weren't a few pointed questions from the mixed generation crowd of more than 1,000 that packed the bleachers of the Arcata High School gym, with the spillover of attendees finding a space to sit on the floor or lining up along the edges of the walls. This for a meeting called with about 48 hours' notice.
There were a few tinges of tension during the evening, especially when Huffman was asked about the Democratic National Committee's role in attempting to undermine Bernie Sanders' campaign.
Beau Saunders
While nothing like the backlash some of his congressional cohorts are facing, Huffman did feel some momentary heat from a few Bernie Sanders supports asking about the DNC's handling of the primary campaign.
He admitted there were certainly presidential campaign missteps on the Democrats' side but said the DNC was not the "Death Star" of the election that it has been made out to be. The congressman then garnered a few rumblings of discontent by saying he believes some embarrassing emails would have surfaced out of Sanders' campaign had the Russians hacked them.
But, for the most part, the San Rafael Democrat was playing to a responsive room when he talked about his intention to fight back against Trump's agenda when it came to a host of issues, including the repeal of Obamacare, immigration reform, climate change and dismantling the Environmental Protection Agency, among others.
Huffman emphasized the need to come together "to start to focus on 2018, which will be our first chance to turn it around," drawing a round of cheers.
He said the Republican Party may appear to represent a united front but there are "enormous faults beneath the surface and those are going to show."
The congressman predicted Republicans will "turn on" Trump pretty quickly once they get their main issues — like seating a Supreme Court justice — ticked off their list and behind the scenes some are saying they're not sure he's going to finish the term because "things are so crazy with this administration."
When asked about removing Trump — "he's not mentally fit to be president" one woman said — Huffman said impeachment was the more likely course — if it were to happen.
On attempts to repeal Obamacare, Huffman said the fight is on and the likelihood is the Affordable Care Act will see some modifications but remain, noting even former Speaker of the House John Boehner doesn't believe a repeal is possible.
Beau Saunders
People flocked to Arcata High School, many with signs in hand, Thursday for a town hall meeting with North Coast Congressman Jared Huffman.
"We need to keep moving forward incrementally toward single-payer healthcare," he said.
When a question was raised on connections between Trump and Russia, the congressman chastised Republican leaders for being more interested in the media leaks than potential White House-related misconduct, but told the crowd "you can count on me to keep pushing."
He noted that the Democrats are "pushing for an independent commission to look at Russian involvement in the election" and said "there will be an investigation."
On the subject of the Electoral College, Huffman received an enthusiastic response when he said he would introduce legislation to end the presidential selection process but cautioned that fight should not become a distraction from the more pressing issue of changing the Congressional landscape in the 2018 election.
"I'm going to be honest with you: It's not going to happen any time soon," he said of the elimination of the Electoral College.
Huffman said he had hopes Trump would try to build bridges once he came into office, maybe seating a few Democrats in his cabinet and "waking up and smelling the coffee" on climate change. But, he noted, that hasn't happened.
He pledged to fight for the Environment Protection Agency, which some fear is at risk of being dismantled following the controversial pick of Scott Pruitt to head the agency he had previously sued.
Huffman noted it was the EPA that "came to the rescue" in the cleanup of the Samoa Pulp mill, where dangerous liquors with the potential to spill into Humboldt Bay once languishing in corroded vats.
"It would have been one of the worst environmental disasters the county had ever seen," Huffman said he was told by a local EPA official, also stating "there are parts of this country where the EPA is vilified but I think you know better than that in Humboldt County."
"I have no problem fighting for the EPA," he said. "We're going to have to."
He voiced his support for the Standing Rock Sioux, public education protections, independent commissions to form election districts and ensuring access to health care in rural areas.
"Sometimes the solution is to actually provide adequate funding and support," Huffman said.
As the crowd gave him a standing ovation at the end of the night, Huffman thanked them for a "great conversation" before quipping he was going to tell all of his Republican colleagues "not to be so afraid" of a meeting with their constituents.
Beau Saunders
Huffman weighs in on topics from healthcare to impeachment.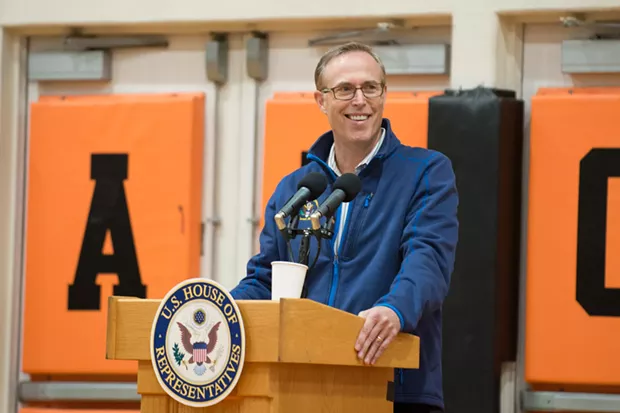 Beau Saunders
Huffman shares a laugh with his constituents.
Beau Saunders
Huffman speaks with constituents after the town hall.