Beau Saunders
Tim Canning relocates a fern during trail maintenance day in Arcata Community Forest.
Early Saturday morning, volunteers gathered in Arcata Community Forest for a trail building work day.
Organized through a partnership between the city of Arcata and the Humboldt Trails Council, 25 volunteers spent the morning working on a section of Trail 4, which was recently rerouted to avoid a steep and slippery section of trail.
Dennis Houghton, parks facilities natural resources supervisor for the city, was directing the transplanting of more than 30 ferns, aided by Rees Huges, a volunteer coordinator of the Arcata Community Forest Trail Stewards (and sometimes Journal contributor).
"When we first started four years ago, we had seven or eight people showing up, and now we have a 25 person core group, which has been really good," Houghton said. "Bottom line is each and every event is open to all, and we encourage people to come and help out. We've been partnering with [Humboldt State University], Arcata High School, and the local Boy Scout and Girl Scout Clubs, all helping make this forest accessible and safe to enjoy."
By the end of the day, more than 100 yards of old trail had been filled with ferns, fallen logs, branches and forest duff and was clearly no longer a path for the bikers, hikers and equestrians who use the forest. David Guyer, a volunteer at the event, said, "I've recently moved back to the area after 20 years, and it's one of the highlights of my week to come out make a good effort. Replanting ferns today was really fantastic."
The Arcata Community Forest Trail Stewards meet at 9 a.m. on the fourth Saturday of every month (excluding December), and welcome volunteers to come help out.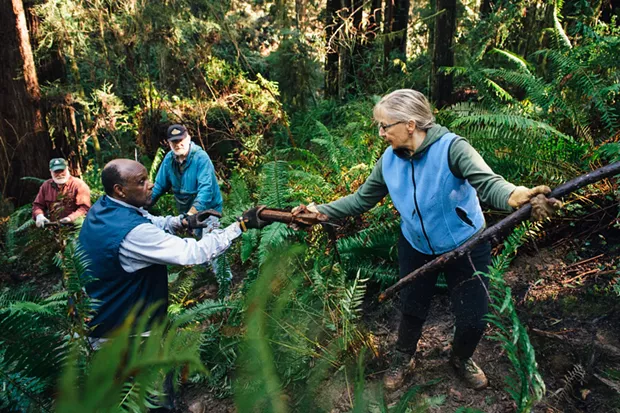 Beau Saunders
(Left to right) Gary Friedrichsen, John Sullivan, George Nickerson and Orleen Smukler pass limbs down the slope to mix in with replanted ferns.
Beau Saunders
City of Arcata Parks, Facilities and Natural Resources Supervisor Dennis Houghton.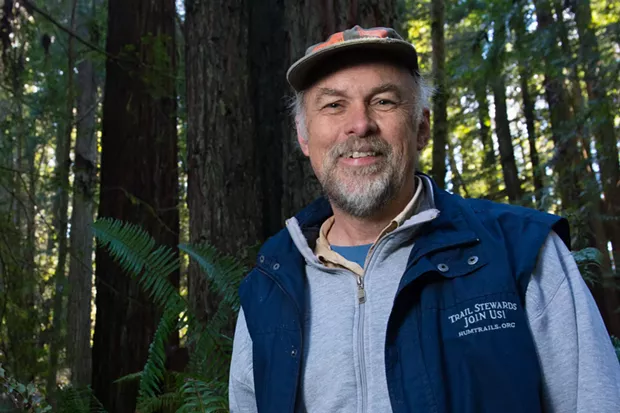 Beau Saunders
Arcata Community Forest Trail Stewards Coordinator Rees Hughes.
Beau Saunders
Dennis Houghton directs Naomi Winger, John Cortenbach, Rees Hughes, Alex Orozio, Zachary Matthews, Dan Calderwood and Joshua Sears as they move a fallen tree to block access to the discontinued trail.
Beau Saunders
Volunteers pose for a group photo.